The variety of lentil recipes here is testament to the versatility of this wonderful food. These little pulses seem to have an ability to reinvent themselves for every dish and lend themselves to all kinds of cooking styles.
Cheap, long-lasting and nutritious, lentils are a trusty friend in the kitchen for health-conscious, budget-aware cooks. They are also a valuable addition to a low fat low cholesterol diet. To me, they are impossible not to love. Click here to find out more about lentils.
Lentil Recipes
---

Spicy, delicious but low fat and meatless. This is a fantastic and flavorsome vegetarian chili.
---

An easy, tasty family dinner with split red lentils and cheese, this is hugely popular in my house.

Adapted from a recipe by Madhur Jaffrey, this simple Middle Eastern influenced dish is packed with savory flavors.
---

Tasty, nutritious and just about as easy as it gets. This is a perfect mid-week dinner.
---

Tasty, nutritious, cheap and a really simple lentil recipe to make. There is always a batch of this sauce in my freezer.
---

A quick and dirty dinner solution;-) Lentils cooked with tomatoes, coconut milk and spices, this makes a good mid-week meal.
---

A simple and fragrant dal made with split red lentils. Nutritious and cheap to make too.
---

Comforting and nutritious, this is a very simple but flavoursome vegan red lentil soup recipe that is sooo easy to make.
---

A simple but beautifully flavored stew from the Middle East. Adapted from a wonderful recipe by Gil Marks.
---

Easy and tasty red lentil patties with quinoa. These are simple, wholesome and very good. A deliciously healthy veggie burger recipe.

---

This is especially nice to serve if you feel like a roast dinner with all the trimmings. It is a simple, nutritious and very satisfying vegetarian main course.

---

Aubergines, lentils and aromatic middle eastern spices are combined to create a deliciously hearty and healthy family meal.

---
A simple but delicious lentil pie. This dish makes an excellent family meal and it freezes well too.
---

A homely bake made with green lentils. It's a hearty and satisfying vegetarian main course dish that tends to be popular with both children and adults.
---

These delicious little patties are moist and gently spiced. They also freeze perfectly.
---

The sunny flavours of feta, lemon and basil make this lentil salad recipe perfect for a summer lunch in the garden. Though it makes a tasty side dish at any time of the year.
---

For me, this is one of the best lentil soup recipes ever. Chunky vegetables and green lentils are cooked together with herbs and garlic to create a vegan lentil soup that's so tasty and packed with nutrients.
---

And another one... Vegetables, red lentils and spices combine to make a smooth, delectable Indian inspired soup.
---
How To Cook Lentils
Cooking lentils is easy. Unlike beans, they do not need to be soaked. To cook, simply place in a large pot, cover with twice their volume of water, bring to the boil and simmer till tender. How long that takes really depends on the variety and age of the lentils you are cooking. For more information on cooking lentils, take a look at the lentil recipes below.


Whole lentils will usually take 30 to 40 minutes to cook while split lentils cook much faster. These may only take 20 minutes.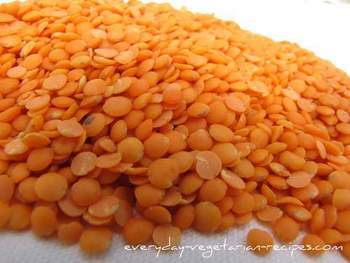 Split Red Lentils

Consider Using A Pressure Cooker
Using a pressure cooker allows you to cook lentils in about a third of the time. You also use need a lot less water when you cook with a pressure cooker meaning that your food retains up to 50% more of its vitamin and mineral content.


Look on Amazon.com for pressure cookers. They carry an excellent range and prices start very low.
Lentil Nutrition
Their incredible nutritional value should be enough to get you cooking lentils. They are rich in protein, fibre and complex carbohydrates. They are a good source of calcium, phosphorus, iron, B vitamins and folic acid. They are also low calorie, low fat and cholesterol free.
On average 100g or ½ Cup of cooked lentils provides:


| | |
| --- | --- |
| Calories | 115kcal |
| Protein | 9g |
| Fibre | 8g |
| Fat | 0.4g |
| Calcium | 19mg |
| Iron | 3.3mg |
| Folic Acid | 180mcg |
| Phosphorus | 180mg |
---