Grilled Halloumi Cheese With Couscous & Chickpea Salsa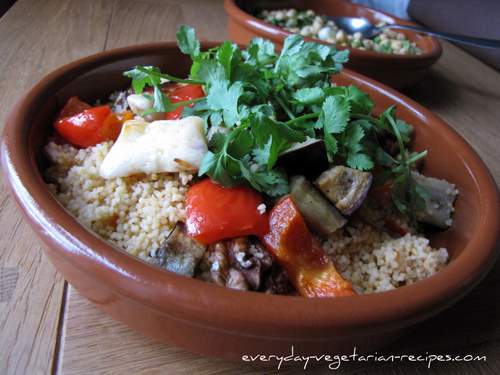 This grilled halloumi recipe features delicious grilled halloumi with peppers and eggplant, spicy couscous and a zesty chickpea salsa. Although the list of ingredients looks quite long, it's surprisingly quick and easy to make. It can be cooked on a griddle or a roasting pan but also makes an excellent vegetarian barbecue dish.
About Halloumi Cheese
Halloumi seems to be everywhere lately. If you're not familiar with it, it's a wonderful Cypriot cheese which holds its texture and shape when cooked, making is a useful addition to many vegetarian dishes.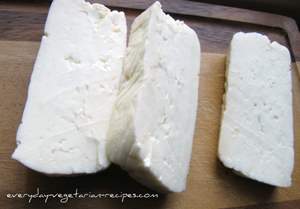 It is one of those ingredients that non-vegetarian restaurants love too (maybe a little too much). Probably because it can function a bit like meat, meaning that you can just cut it up, fry it or grill it. And unlike tofu or processed vegetarian "fake meats", it needs little adornment. It already has an excellent texture and flavour all of its own.
Halloumi works well with fresh herbs, particularly mint. It's also good with chili peppers and citrus. Citrus helps to balance the natural saltiness of halloumi and is a good addition to any halloumi cheese recipe.
Grilled Halloumi?
I'm always watching my terminology here. Please correct me if I am wrong, but here's my understanding. In the U.S., grilling means cooking something directly on a dry heat from below. In Europe, grilling means that the heat usually comes from above (known as broiling in the U.S.).
This recipe is for grilled halloumi in an international sense ;-) What I mean is that for this recipe, you can cook the halloumi and vegetables on a barbecue grill, a conventional griddle or on a large baking pan under a grill or broiler. All will work well.
Ingredients For The Chickpea Salsa:
1 cup/125g cooked chickpeas
1 tablespoon fresh mint, chopped
1 tablespoon fresh coriander (cilantro), chopped
2 tablespoons of olive oil
Juice of half a lemon (or 2-3 tablspoons)
4 spring onions, chopped
Ingredients For The Couscous and Grilled Halloumi Recipe:
By the way, this couscous is a version of my
Moroccan couscous
recipe.
1 cup/180g couscous
2 teaspoons of harissa paste
mixed with 1 cup or 240mls of boiled water
1 clove garlic, crushed
Juice of half a lemon (2-3 tablspoons)
5 tablespoons olive oil
2 red peppers, cut into large strips
1 eggplant/aubergine, cut into large chunks
250g/9 ounce packet of halloumi, sliced
½ tablespoon of butter
3 tablespoons of walnuts, roughly chopped
2 tablespoons of cilantro or fresh coriander
Method:
First make the chickpea salsa by mixing all of the ingredients together in a bowl.
Next, put the couscous in a bowl and pour over the harissa and hot water mixture. Set aside.
Heat the grill, broiler or barbeque. If you are using top heat (broiler or European grill), set it to the maximum temperature.
Mix the garlic, lemon juice and olive oil and toss in a bowl with the eggplant, peppers and halloumi. Transfer the vegetables and halloumi directly to the grill pan or use a large baking pan if you are using a broiler or European grill. Cook the vegetables and cheese for 3 or 4 minutes each side until nicely browned.
Keep an eye on the halloumi. It will cook quicker than the eggplant and peppers.
In a frying pan or skillet, melt the butter and gently fry the walnuts, tossing to coat. Then mix the buttery walnuts through the couscous with a fork. Spoon onto a plate and scatter over the vegetables and halloumi. Top with some cilantro or fresh coriander and serve with the chickpea salsa.
---