I've finally gathered all of these easy vegan recipes together in one place on the site. Apologies to my vegan friends for taking so long. So they are... breakfasts, salads, soups, main dishes, appetizers and dinner ideas. Happy vegan cooking!
Vegan Breakfast Recipes
---
A few easy vegan recipes for breakfast...
A quick and healthy blueberry smoothie recipe. This is a soy based smoothie which is big on flavour and low in cholesterol. A perfect vegan breakfast.
---
This is a delicious homemade vegan granola recipe that is low in fat and refined sugar.
---
Another granola recipe. This one is super quick to make. It's vegan and low in fat.
---
Packed with whole grains, juicy dried fruits and nutritious nuts, breakfast doesn't get any healthier than this. Make up a batch of this wonderfully healthy vegan muesli for a perfect start to your day, everyday.
---
My personal favourite porridge recipe. Dates and hazelnuts add sweetness and crunch to this easy breakfast dish.
---
A light and creamy vegan alternative to dairy milk. Make this almond milk at home for a refreshing morning drink or as a substitute for cows' milk in your recipes.

---
Main Vegan Meals
---
Easy vegan recipes for dinner.
Packed with protein, gluten free and vegan. This quinoa pilaf is made with asparagus, bell pepper, pistachios and herbs. A simple but delectable dinner.
---
One of my favourite easy vegan recipes, this is a very simple curry to make and it tastes wonderful. Chickpeas, spinach, coconut, potatoes, tomatoes and mango chutney. Hmmm...
---

I make this curry with pumpkin, eggplant and cashews. Rich and spicy.
---
This is one of the best ways to cook tofu. Packed with flavour, try this if you think tofu is bland!
---
---
So easy to make, this makes a great vegan dinner.
---
A tasty middle-eastern influenced millet pilaf recipe with eggplant, chickpeas and fragrant spices.
---

Warming and homely, this is a great family meal and one of my longest serving easy vegan recipes.
---

This simple dish will surprise you. Black-eyed peas, tomatoes, coconut, thyme and a little bit of chilli are combined to make an incredibly tasty vegan dinner. Perfect with just some rice on the side.
---

A very easy vegan chilli with 3 types of beans. Sweet and spicy, this is great with rice or wrapped in a tortilla with some guacamole.
---
An aromatic vegan stew from North Africa with chickpeas, spices, apricots and orange. Delicious with couscous.
---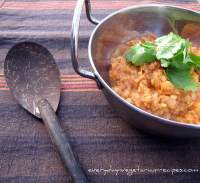 A quick and simple meal from South Asia. Dahl is a tasty, cheap, nutritious and easy meal.
---

A sumptious version of the classic African dish, groundnut stew, this is a vegan stew I love.
---

A very easy and tasty way to prepare black eyed peas for a quick and healthy supper.
---
One of the easiest homemade veggie burgers you can make. These vegan burgers are a big favourite with my little girls.
---
A tasty and healthy vegan burger with green lentils, rice and spices.
---
This easy rice rice recipe makes a fast and delicious vegan main dish or side.
---
An easy vegan burger recipe with sunflower seeds, hazelnuts and tahini.
---

I love these. Black eyed peas and millet are combined with spices to create moist and delicious patties. Millet is surprisingly good in burgers, ensuring a light and moist texture.
---
A simple vegan pasta recipe with mushrooms, rocket (arugula) and breadcrumbs. This is very easy and very good.
---
---

A really good easy sauce for pasta. It's great for freezing too.
---
Vegan Snacks
---
Fresh, homemade guacamole is the classic vegan dip.
---
A whole load of easy vegan recipes and ideas for hummus.
---
Almond butter makes a tasty and nutritious dip or sandwich filler for vegans and non-vegans alike. It's low in cholesterol, a great source of protein and easy to make at home.
---
Baking tofu is a great technique. It gives your tofu a really good texture and ensures that the flavours of your cooking sauce really penetrate the tofu. For this recipe, tofu is baked in sweet chilli sauce. Well worth a try and one of the easiest easy vegan recipes!
---
Easy Vegan Recipes - Soup
---
Sweet and gently spiced, this is a beautiful soup made with roasted squash and warm spices.
---
A Thai-inspired cold asparagus soup. Something a little different and a little special.

---
A delicately spiced carrot soup, this soup is very easy to make.
---
Simple and delicious, this is always popular and one of my personal favourite soups.
---

A mildly spiced Indian red lentil soup with vegetables. This is a healthy and delicious vegan soup.
---
This is a simple chunky vegetable and lentil soup made with green lentils. It makes a satisfying low fat, vegan lunch or light meal.
---
A stunning pumpkin soup with coconut and Asian spices.
---
Vegan Salads, Salad Dressings, Dips And Sauces
---
A fruity and delicious vegan salad dressing.
---
This is a quick homemade vegan alternative to mayonaisse. A versatile and low cholesterol recipe.
---
A really delicious fried tofu salad with green beans, and Malay peanut sauce. This makes a fantastic, protein-filled lunch.
---
A yummy quinoa salad that's easy to make. Sundried tomatoes, pumpkin seeds, basil and fluffy nutritious quinoa...
---
A protein rich, gluten free take on the definitive middle eastern dish. This makes a great change from bulghur wheat.
---

A really tasty chickpea salad with an Oriental style soy and sesame dressing. This is full-flavoured and keeps for days.
---

Try this yummy vegan salad with noodles and cashew nuts, tossed with a fabulous tahini and ginger dressing.
---

This macaroni salad is a little bit different, thanks to a wonderful tangy mustard dressing.
---
A delicious potato salad that's completely vegan. It uses my vegan mayo as dressing.
---

Based on the classic Middle-Eastern dish.
---

I think this might be my favourite salad - ever. Brown rice, crunchy peanuts and an intensely savory dressing. It keeps for days so great for a party too.
---
A quick and easy sauce for the vegan barbeque.
---
---
---
Easy Vegan Recipes For Side Dishes And Stuff...
---

So this Indian rice is a side dish but it's so full of flavour, I can eat this all on it's own for dinner. It does make a very special side dish for an Indian meal though...
---
Lemon, rosemary, thyme and olive oil. The perfect way to cook potatoes.
---

Balsamic vinegar, rosemary and garlic make these roast potatoes perfect with most meals.
---

Tasty Spanish-inspired roast potatoes with herbs and paprika.
---
---
---
Pizza sauce recipes and ideas.
---
A really good basic pizza dough for all your vegan pizzas.
---
---
---