Here's a quick colcannon recipe for you. Colcannon is a traditional Irish dish of potatoes and greens and while the list of ingredients may not sound exciting, it's stunningly, soothingly good. I urge you to give it a try if you haven't before.
My daughter Eve did - eventually. Eve is 6, missing a front tooth and full of opinions. She was melodramatically saying "blah" and "yuk" as I spooned colcannon on her plate the other night (the joys!). But she knows the rules. She has to try - and she did. Here we had a bit of a turnaround. She devoured her portion and moved on to her sister's before scavenging for more in the pot. So here you go. A colcannon recipe highly recommended by Eve...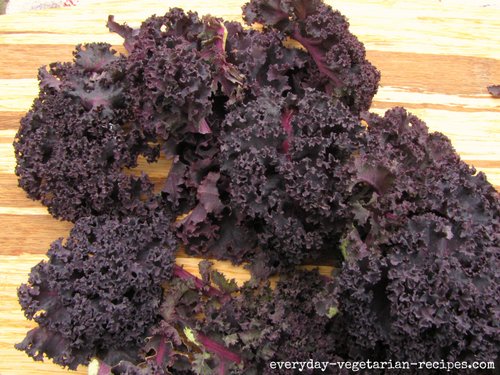 For this colcannon, I used purple kale from the market but any kind of kale, cabbage or Winter green will work well. In fact, although the purple kale had great flavour, it will tend to dye the potatoes if you aren't serving the colcannon immediately. We reheated some the next day and it was basically violet in colour. You have been warned (by the way, the sane-looking colcannon was devoured before I had a chance to photograph. I'll try to pop up a photo when I make again which should be soon.)
As for the potatoes, go for a floury or "mealy" variety - russets or any potato recommended for baking or mashing. You don't want anything too waxy.
Ingredients
(for 3-4 portions)
500g / 1 pound of floury potatoes
50g butter (half a stick)
100g / about 5 cups washed and chopped kale (I know this seems like a lot but it cooks down. Plus, colcannon should have a high proportion of greens to potato)
60mls / ¼ cup of milk
salt & pepper to taste
Peel the potatoes and cut them into large, even sized chunks. You can cook them in a pot of boiling water till tender or you can steam them. I always prefer to steam potatoes when mashing. Steaming means they are less water-logged, making for a lighter, fluffier mash.
When the potatoes are almost done, melt the butter in a large, heavy based pot, then add the kale. Cook over a medium heat for 4-5 minutes until tender.
Mash the potatoes with a fork, masher or ricer until really smooth. Warm the milk and add it to the potatoes, stirring well. Finally add in the sautéed kale, mixing well and seasoning to taste.
---