This black bean stew is a simple, spicy and slightly sweet supper. Take your time at the start with the slow cooking of the base ingredients and you will be rewarded with a rich and full-flavoured stew with a South American influence.
Ingredients
1 cup / 180g of dried black beans, soaked and cooked (or substitute 2 14 ounce / 400g cans of beans)
1 large red or yellow onion
5 garlic cloves
1 large green bell pepper
2 tablespoons of hot pickled chilli peppers
1 cup of fresh coriander / cilantro, plus some extra for finishing
2 tablespoons of olive oil
1 teaspoon of fine grain sea salt
1 teaspoon of ground cumin
1 large sweet potato, about 450g or 1 pound, cut into chunks
2 400g / 14 ounce cans of chopped tomatoes
Lime wedges and diced avocado to finish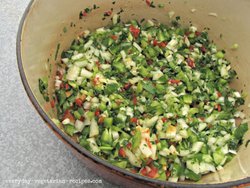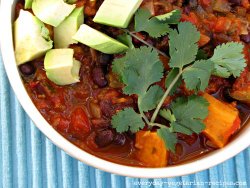 Drain and rinse the beans, then set aside. Chop the onion, garlic, green pepper, pickled chili peppers and herbs very finely and put them together in a large bowl, ready for cooking. Heat the olive oil in a large, heavy-based pot over a medium to low heat and pour in the olive oil. Add the chopped vegetable-herb mixture, cover and cook slowly for about 15 minutes, stirring occasionally to prevent sticking.
Stir in the salt, cumin and sweet potato, mixing well. Next add the tomatoes and drained beans. Bring up to a simmer, lower the heat and then cook gently for about 20-30 minutes until the sweet potato is tender.
Serve with rice, topped with some more coriander / cilantro and diced avocado. Squeeze lime over everything before serving. Enjoy. x
---