Gorgeous Zucchini Fritters
This zucchini fritters recipe makes a lovely summery main or side dish.
You'll get about 12 fritters with this recipe which should serve 4 people as a main, 6-8 as a side.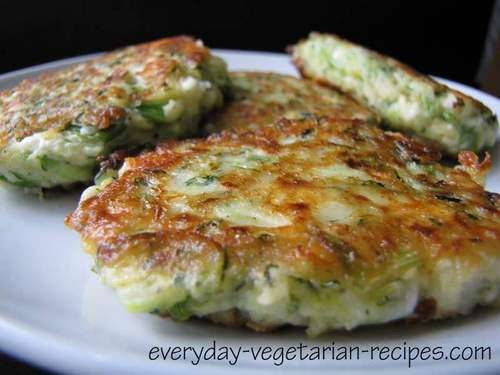 Ingredients:
2 large zucchinis or courgettes (about 800g/1lb 12 oz)
300g/10½ oz/1¼ cups of feta cheese
Grated rind of 1 lemon
4 spring onions (scallions), chopped
1 tablespoon of chopped fresh mint
6 tablespoons of plain white (all purpose) flour
2 eggs, lightly beaten
salt and freshly ground black pepper
sunflower oil for frying
Method:
1. Coarsely grate the zucchini or courgette and place in a colander. Sprinkle with a little salt, leave for 30-40 minutes and then squeeze well with your hands to drain the excess liquid.
2. Place the zucchini in a large bowl, crumble in the feta and stir in the lemon rind, spring onions, mint, eggs and flour. Season with black pepper and stir well. The mixture should be moist but not too wet (you can add a little more flour if you think it's too wet).
3. Now you are ready to start cooking. Pour about 3 tablespoons of oil into a large frying pan or skillet and place over a medium heat.
4. When the oil is hot, drop tablespoons of batter into the pan. I do this by scooping up a tablespoon of the mixture and using a second spoon to push it into the oil. Don't overload the pan. Four or five fritters is plenty to cook at a time so they don't stick together. Cook for a couple of minutes. When they seem to be holding together and browning underneath, turn the fritters and cook for another 2-3 minutes on the other side. Repeat with the remaining fritters and serve.
---