So exactly what are lentils? Basically lentils are just a small pulse or legume, closely related to beans. Cultivated for millennia and long known as a peasant food, they are a wholesome, highly nutritious food and highly adaptable as an ingredient in cooking. There is a huge number of lentil varieties available, varying in colour from the more common greenish brown and red to yellow, white and black.
In the Indian sub-continent, where lentils form a central part of the diet, lentils are known as dal (or dahl) although the term dal specifically refers to any split bean, pea or lentil with the husk removed.
Whole lentils tend to hold their shape (more or less) when cooked and will need to be drained after cooking.
Green Or Brown Lentils
The most common are green or brown lentils. Green and brown are two distinct varieties but behave in much the same way when cooked so you can happily swap one for the other in recipes without issue.
Green Lentils
These are really greenish-brown in color, slightly larger and flatter than "brown" lentils.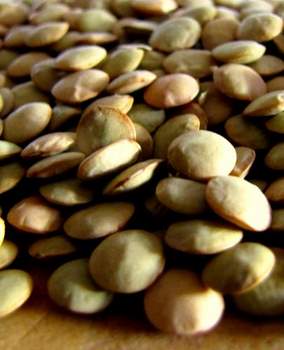 Brown Lentils
Brown lentils are slightly more rounded and have a distinctive pinkish hue underlying the brown.
Red Lentils
Really more orange than red in color, you will often see red lentils labeled as orange lentils. Worry not. They are the same thing. These lentils are most commonly available split though whole ones are available too.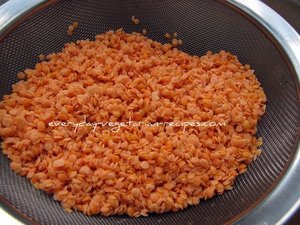 When cooked, red lentils, whether split or whole, will dissolve completely into a purée which is why they are so popular in soups. They split variety are useful here because they cook more quickly. Add a tablespoon or two to any soup near the start of cooking to make it thicker and more substantial.
---