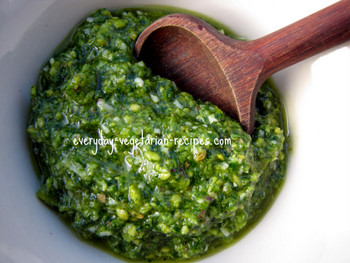 This is a nice watercress recipe if you are looking for something a little different. It's a tangy watercress and pistachio pesto that is good to smear on crusty bread, add to sandwiches or toss in pasta. I'm a big fan of watercress in any form. Soups, salads and sandwiches are its most common hangouts. Given the choice, I like to eat it raw. I love the peppery sharpness of the leaves in salads and given the impressive health claims, I'm glad I do.
Watercress
Watercress is an excellent source of Vitamin C and A and is rich in iron, calcium and folic acid. Research has also suggested that watercress has significant anti-cancer properties. Studies have shown that daily consumption of watercress may suppress the development of breast cancer cells and prevent skin cancer.
But Back To The Pesto...
This dish was inspired by a big bunch of watercress that suddenly looked like it might not last too long. The results were surprisingly good and the sauce makes a delicious change from a traditional basil pesto. You can use salted or unsalted pistachios for this recipe. If you use salted, you may not need to add any additional salt.
Ingredients
2 cups/60g of watercress
½ cup/30g of pistachios (shelled weight)
1 clove of garlic, crushed
½ cup/125mls of olive oil
Salt and Pepper to taste 2 tablespoons/25g of grated Parmesan cheese or similar vegetarian cheese
Method
Put the watercress, pistachios and garlic into a food processor and blend until smooth.
Now add the grated Parmesan and olive oil and blend again.
Season to taste with salt and pepper.
---