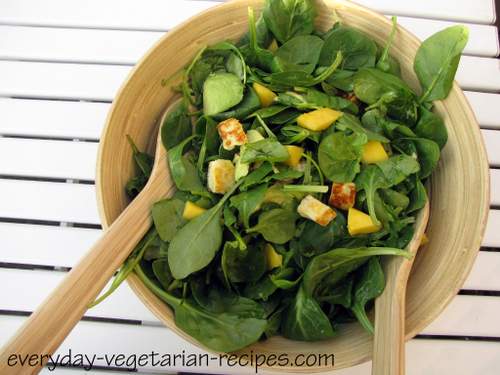 This salad is my latest addiction. It's just really good. Lip-smacking sort of good with baby spinach, avocado, little cubes of sizzling halloumi and chunks of firm sweet mango, all brought together with a light but creamy tahini lime dressing.
To me, this a main course salad to be eaten just as it is, unaccompanied. Served this way, the recipe makes enough for two very generous helpings.
For the Tahini Lime Dressing
2 tablespoons of extra virgin olive oil
2 tablespoons of fresh lime juice
3 tablespoons of tahini
1 tablespoon of white wine vinegar
fine sea salt to taste
For The Spinach Salad
About 250g / half pound (6-7 packed cups) of baby spinach leaves
Half a firm, sweet mango
1 ripe avocado
200g / 7 ounces of halloumi cheese
Olive oil for frying
Make The Salad
Make the dressing by whisking together the extra virgin olive oil, lemon juice, tahini and white wine vinegar. The mixture will probably be thick and dense so you'll need to thin it a little. Gradually add water, a spoonful at a time, mixing thoroughly between spoonfuls until the dressing has a thin, pouring consistency. Have a taste and sprinkle in a little sea salt if it needs it.
How much water you need to add will vary, depending on how dense your tahini is. You'll probably end up with a little more dressing than you need but it will keep for a few days in the fridge and it's good with a whole range of salads. It's a nicely zingy dressing with a pleasing texture that is creamy but not heavy.
For the salad, cut the halloumi into smallish cubes, about 1 cm or ½ inch. Heat a little olive oil at a medium to high heat in a large frying pan or skillet. Pop in the halloumi and sizzle until the cheese starts to turn golden and slightly crisp. Turn the halloumi regularly until evenly cooked all round.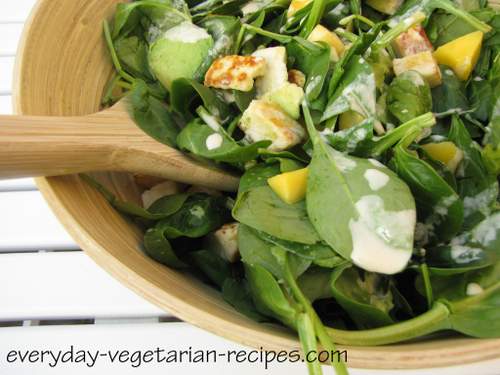 Keep the halloumi warm while you peel and cut the avocado and mango into small chunks. Finally toss the halloumi straight into a large salad bowl with the spinach, mango and avocado. Pour over the dressing and fork through to coat the salad.
Related Pages...
---
| | |
| --- | --- |
| | This spinach salad has balsamic roasted shallots, shavings of parmesan and a simple lemon dressing. |
---
| | |
| --- | --- |
| | A zesty riff on the traditional Middle Eastern bulgur salad with fresh rocket or arugula, parsley, tomatoes and lemon. |
---
---