Here's my recipe for spicy, messy, delish vegetarian fajitas. Don't forget to smear on the sauces here too. I'm fond of the usual ones like salsa, guacamole or just slices of avocado and plenty of jalapeños.
So What Fillings Are Good For Vegetarian Fajitas?
You can definitely mix it up here if you want to with pretty much any kind of vegetable but I like this mix of colors and textures. I also picked these ones because I find the vegetables hold their shape well when you are piling them into tortillas and rolling. Go for chunky vegetables that don't require a huge amount of cooking. Asparagus, beans, baby corn, zucchini or small florets of broccoli are all good alternatives to the ones below.
I specified cremini/chestnut mushrooms (these are the same thing depending which side of the Atlantic you dip your toes in) because, as well as having a richer flavour, they don't have the high water content of white button mushrooms. Fajitas are messy enough without that. As regards the tofu, I know many of you will skip it but would you please trust me if I told you that would be a mistake? It works so well in fajitas.
---
These quantities will make 6 vegetarian fajitas (Ahem, I'll let you decide how many people that is)
280g / 10 ounces of firm tofu
60g green beans, cut into 2 inch lengths (about half a cupful)
140g / about 4-6 medium chestnut or cremini mushrooms, thickly sliced or just halved if they are small
½ half a medium red onion, cut into thick slices
&frac12 medium red bell pepper, cut into large chunks
6 flour tortillas
To serve:
A selection of toppings e.g.
Sliced avocado
Shredded lettuce
Salsa
Cheese
1 quantity of homemade fajita spice mix
---
Fajita fillings (with meat) are traditionally cooked on a griddle or barbecue grill but I do these in the oven. I think it improves the flavor and texture of the vegetables and tofu.
Heat the oven to 400°F / 200°C. Toss the tofu, green beans, mushrooms, onion and pepper together in a large bowl. Add the spice mix and stir gently but thoroughly so that the vegetables are well coated. Transfer to an oven-proof dish and bake for about 30 minutes, stirring about halfway through the cooking.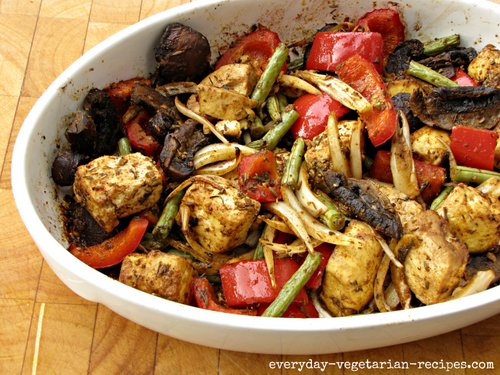 You can wrap the flour tortillas in foil and warm them in the oven for the last few minutes of cooking. Serve the filling in the warm tortillas, topped with your choice of sauces and condiments.
---