Fab Vegetarian Burger Recipe With Black-Eyed Peas, Millet And Spices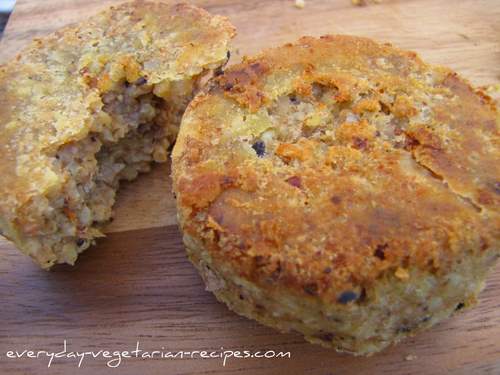 A vegetarian burger recipe with black-eyed peas, millet, sun-dried tomatoes and finished with generous quantities of herbs and spices. I'm loving these burgers at the moment. Tasty and moreish, they are packed with nutrients as well as flavour. They are also suitable for vegans and are gluten free.
This recipe will make quite a lot - about 12 good sized burgers. If that sounds like a lot, the quantities are easily halved but these patties do freeze perfectly which is why I like to make a large batch.
Ingredients:
300g/2 cups of black-eyed beans/black-eyed peas. Read how to cook beans

225g/1¼ cup of millet, cooked. (If you don't know how, read this guide on how to cook millet)
1 large onion
2-3 cloves of garlic
125g/1 cup of sundried tomatoes in oil
1½ teaspoons of dried thyme
1½ teaspoons of dried oregano
1½ teaspoons of paprika
¾ teaspoon of ground cumin
¾ teaspoon of ground coriander
½ teaspoon of salt
Plenty of freshly ground black pepper
Maize meal, millet flour or wheat flour for coating (obviously don't use wheat flour if you want to keep this recipe gluten free)
Method:
Put the onion, garlic, sundried tomatoes, herbs, spices and seasoning in a food processor and whizz to form a rough paste.
Add the cooked black-eyed beans (black-eyed peas) and process again until quite smooth.
Transfer the mixture to a bowl and stir in the cooked millet. Stir well to combine.
Now shape the mixture into burgers. The best way to do this is to take a handful of mixture and roll it into a ball between your palms. Place the ball on a board scattered very liberally with maize meal or flour. Roll around to coat and then flatten slightly to make a burger shape.
Heat a thin layer of canola or sunflower oil in a pan or skillet and fry the burgers for a few minutes on each side. For this vegetarian burger recipe and all others, I like to transfer the patties to a hot oven for a few minutes to give them a nice even crisp coating but this isn't essential.
Remember if you are cooking the burgers on the barbecue, brush them with oil first and cook in the usual way. I often cook them on a pan and just reheat on the barbeque which works fine too.
Like all my vegetarian burger recipes, these also freeze very well. You can freeze them before you cook them or after frying. I like to freeze after frying. That way, you can just defrost and reheat in a hot oven for about 10 minutes.
Related Pages...
---
| | |
| --- | --- |
| | A quick and easy tofu burger recipe, these savory patties are something special. |
---
| | |
| --- | --- |
| | A gorgeous casserole of black eyed peas, tomatoes, coconut and just a little bit of chili. |
---
---