This is a current pet recipe for me because my 3 year old daughter generally won't touch tofu. But this, she can't resist. You'll be surprised how good it is. It is an easy little tofu dessert recipe, rich and creamy but actually good for you with 3 nutritious ingredients - silken tofu, apricots and almonds.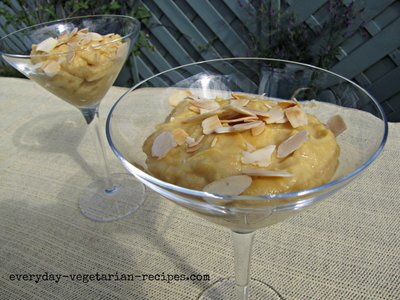 It's a simple concept. Stewed fruit, purèed and whipped up with silken tofu and chilled for a kind of pudding or fool for dessert. I use dried apricots with the tofu which give an intense flavour but I imagine other fruits would work too. I would just veer towards sweeter fruits.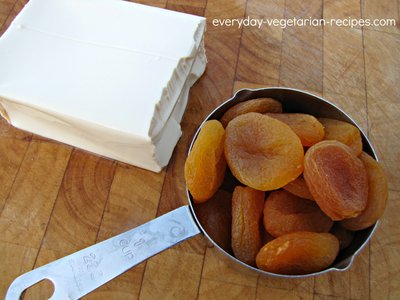 Ingredients
This is enough for 4 small portions
1 cup / 170g dried apricots
6 ounces / 175g of silken tofu
2-3 tablespoons of toasted flaked or slivered almonds to serve


Put the apricots in a pot and just cover with water. Place over a high heat and bring to the boil, turn the heat down and simmer for 20-25 minutes until puffed up and soft. The cooked fruit will be pale and wrinkly - a little like they spent too long in the bath.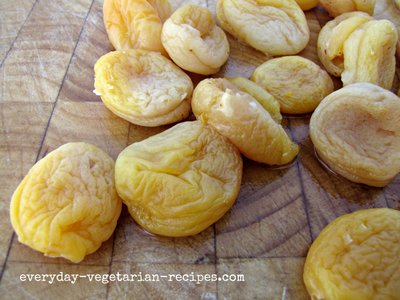 Drain the apricots and pop them in the bowl of a food processor. Blend until smooth and then add the silken tofu. Process again for a minute or so until you have a thick purèe.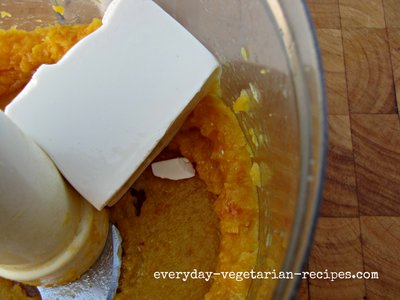 Spoon the tofu mixture into small dessert bowls or glasses and chill for an hour or so. Sprinkle with toasted almonds before serving.
---