Easy Yummy Tofu Burger Recipe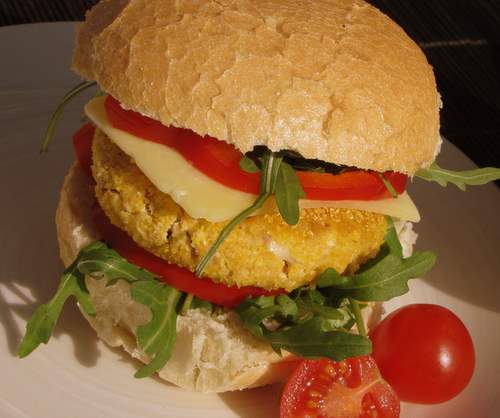 These little patties can be mixed up in about 15 minutes but the results might surprise you. My kids devour them which is great because they are a vegetarian meal full of good ingredients. The flavour is robust and savoury and the texture... Well I hesitate at calling it "meaty" like that's a good thing but the feel of these burgers is particularly good. Not dense or brittle like some veggie burgers, these patties are light but springy - and yes, just a teeny bit meaty. Tofu burgers are one of my favourite ways to cook tofu.
The basis of the recipe is plain mashed firm tofu so there's no pre-cooking of beans or other ingredients involved. The vegetarian Worcestershire sauce
gives a nice rich flavour to the burgers while the oats help to hold them together. Incidentally, although I've listed rolled oats below, I've taken lately to using quinoa flakes instead and they are even better. Use either.
Ingredients
550g/1¼ pounds of tofu
1 small onion or two shallots, very finely chopped
1 garlic clove, crushed
40g/½ cup rolled oats
60g/1 cup breadcrumbs
80g/½ cup of sesame seeds
2 tablespoons of vegetarian Worcestershire sauce (This recipe is vegan)
2 tablespoons of tomato purée (paste)
2 tablespoons of soy sauce
Coarse maize meal or flour for coating
Canola or sunflower oil for frying
How To Make The Veggie Burgers
Pat the tofu well with paper towels to dry then mash roughly with a fork. You don't need to mash too much or make it too smooth. A little texture is good. Place the mashed tofu in a sieve or fine mesh strainer over a bowl. Press down to squeeze out as much liquid as you can. This bit is important!! The tofu needs to be as dry as possible or you will end up with mushy burgers that will fall apart when you fry them. Once you've got the tofu really dry, transfer to a large mixing bowl.
Add the remaining ingredients to the bowl except the flour or maize meal and oil. Stir well to combine. Add a few more bread-crumbs or oats if the mixture seems too wet.
Take handfuls of the mixture and roll into balls. Squeeze slightly to help them stay together. Roll in flour or maize meal, then gently flatten into burger shapes.
Heat a thin layer of oil in a frying pan or skillet over a medium to high heat. Make sure the oil is hot before you start cooking. Fry the tofu burgers for a few minutes on each side until golden.
Alternatively, cook them on the barbeque or in a hot oven on a lightly oiled baking pan for 20 minutes.
---