Alternative Tabbouleh Recipe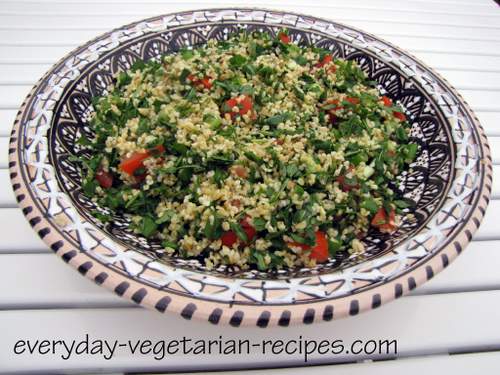 Technically this isn't a tabbouleh recipe at all. I nervously called it tabbouleh, aware that purists are probably shaking their heads disapprovingly and tutting at this list of ingredients. I'm sorry! Maybe we should settle on
"bulgur salad"
. I know. True tabbouleh is packed with parsley, often mint and sometimes spices. It also contains only the smallest amount of bulgur. This one is based on a Madhur Jaffrey recipe and it digresses a little...
It is unusual because of the peppery addition of rocket or arugula (the same thing, depending on what side of the Atlantic you are doing your chopping). Definitely not an authentic ingredient but pretty wonderful all the same when combined with the parsley, bulgur and lemon. Traditionally, parsley is the main herb used in any tabbouleh recipe though mint is also a common addition. This particular recipe will serve 4 to 6 people generously as a side dish.
Bulgur Salad Ingredients
200g/7oz/1 cup of bulgur wheat
3 ripe tomatoes, seeded and finely chopped
5 tablespoons of finely chopped fresh flat leaf parsley
100g/4 oz/about 2½ cups of finely chopped rocket (arugula)
6 spring onions, finely sliced
4 tablespoons extra virgin olive oil
4 tablespoons lemon juice
salt and freshly ground black pepper
Make The Tabouleh
1. Place the bulgur in a large bowl and pour over plenty of boiling water. Leave to soak for about 30 minutes. This can vary so taste it to make sure it has become soft. Leave it for longer if necessary.
2. When soft, drain the bulgur in a sieve. If it seems like there is still a lot of moisture there, lay out a clean tea-towel, tip in the bulgur, gather up the cloth and squeeze out any remaining liquid.
3. Now put the bulgur in a large bowl and fluff it up with a fork. Add the remaining ingredients. Season with plenty of salt and pepper, mix well and serve at room temperature.
Related Pages...
---
| | |
| --- | --- |
| | Joe's fab bulgur pilaf with toasted pine nuts, spinach, feta, chili and sweet sun-dried tomatoes. |
---
| | |
| --- | --- |
| | A beautiful salad with the more traditional ingredients of parsley and mint and the less traditional use of quinoa! Quinoa makes a lovely change from bulgur in this salad. |
---
---