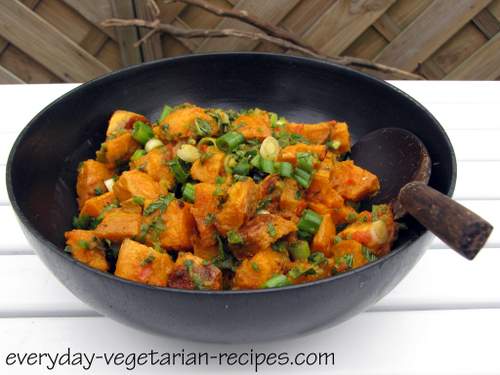 Here's a pretty sweet potato salad recipe I like a lot. It is courtesy of Mark Bittman whose vegetarian cook book has become somewhat of a standard work of reference over the last number of years but, being from the other side of the Atlantic ocean, I stumbled upon it late.
Hugely prolific in the States, Bittman is virtually unknown in Europe. The book - How to Cook Everything Vegetarian: Simple Meatless Recipes for Great Food
- is a huge chronicle of simple but interesting recipes. I admit I've only started to cook from it recently but it is already becoming a go-to book for me. It's teeming with ideas for very straight-forward recipes and organized very clearly by ingredient, making it an easy book to dip in and out of.
This particular sweet potato salad recipe caught my eye first just because I had never made a salad of sweet potatoes. This one with roasted sweet potatoes (my favourite way to cook them) looked promising, especially when combined with a red pepper vinaigrette. I think you will find that the dressing is a keeper. The raw bell pepper adds a beautifully fresh and zesty sweetness. You'll probably end up with too much for the sweet potatoes but I find it works great on a big variety of salads from light and leafy Summer ones to earthier salads with grains or pasta.
Ingredients
4 large sweet potatoes
7-8 tablespoons of extra virgin olive oil
4 tablespoons of sherry vinegar (red wine vinegar or cider vinegar are ok to substitute)
1 medium sized red bell pepper, roughly chopped
2 teaspoons of ground cumin
4 scallions or spring onions, sliced
½ cup of finely chopped fresh mint or parsley
2 fresh chile peppers, finely chopped
Salt and pepper
Peel the sweet potatoes and cut them into small pieces. Toss them with a little olive oil, season with salt and pepper and roast in the oven at 400F / 200C until tender and slightly crisp.
While the sweet potatoes are cooking, make the dressing. Using a food processor or blender, mix 6 tablespoons of extra virgin olive oil with the vinegar, red pepper and cumin and a little salt and pepper. Process until smooth.
Combine the warm sweet potatoes with the scallions, herbs and chilies. Pour over a generous measure of dressing, stirring gently to coat the vegetables. This sweet potato salad is best served warm but room temperature is ok too.
---