These yummy little squash patties are made much in the style of old-fashioned potato pancakes but they have a flavour all of their own. Sweet squash and salty halloumi are blissful partners while the texture of these pretty orange-flecked pancakes is soft and oozing.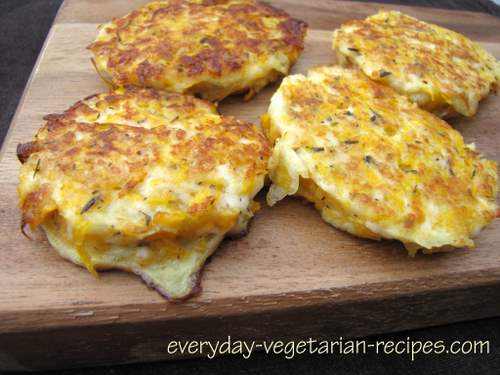 These squash patties came about when I came face to face with an over-sized butternut squash staring across at me from my kitchen counter. I realized suddenly that I was in a bit of squash rut. With butternut, I lean a little too heavily towards roasting or soup - just because I love it those ways - but I was craving something new. Cue the halloumi...
Halloumi is always in my fridge. I love it and because it generally comes vacuum-packed with a long shelf life, I like to slip it into my basket whenever I see it. It then sits in my fridge, ready to save the day when called upon for a quick and tasty supper. It is not a cheese you usually associate with grating. Thanks to its unique melting qualities, it is most often sliced up and grilled or fried. But it does grate well and you'll find that it adds a lot the texture as well as the flavour of this dish. If you have trouble finding halloumi, it is widely available online.
.
What Squash?
Squash patties are big on taste but are quite simple. If you want to spice things up a bit, some more fresh herbs or chili I think would work well. By the way, I see no reason why you couldn't make these with any Winter squash. I also plan to try them with sweet potato. I have a feeling that might be even better.
What You Need For The Squash Patties
450g / 1 pound of Winter squash e.g. butternut or acorn. This is the weight of the flesh, peeled and trimmed of seeds
225g / half pound of halloumi
1 tablespoon of fresh thyme or 1 teaspoon of dried
freshly ground black pepper
2 tablespoons of self-rising flour
2 eggs
Peanut oil, sunflower oil or other flavorless oil for frying
Squash Pancakes & How To Make Them
Coarsely shred or grate the squash and halloumi by hand in a large bowl or with a food processor. Stir in the thyme, black pepper and flour and stir well.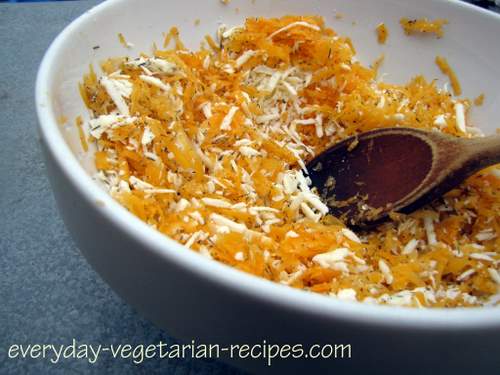 Finally mix in the eggs to form a loose, slightly wet batter.
To cook the patties, heat a little oil in a frying pan or skillet over a medium heat. When hot, drop large spoonfuls of the batter onto the pan, cooking them three or four at a time. I actually used a quarter cup measure loosely filled, almost to the top. This gave me 12 pancakes in total. Just don't overload the pan. You'll need to allow yourself room to flip the pancakes over.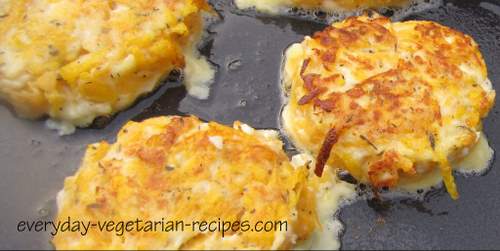 Cook them for 2-3 minutes then turn them over and cook for another 2-3 minutes on the other side. You'll need to watch that they don't cook too fast and are cooked through. That said, squash does cook quite quickly this way.
---