Warm Spinach Salad Recipes With Roasted Shallots & Parmesan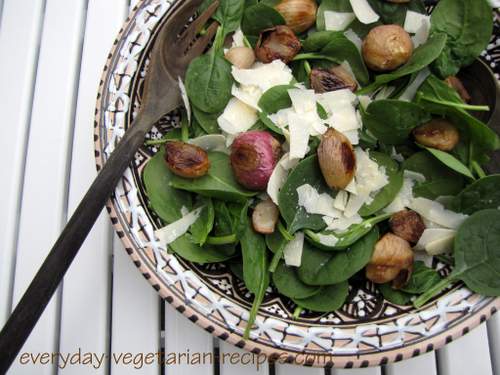 I love all kinds of spinach salad recipes but the combination of warm ingredients with crisp baby spinach leaves is hard to beat. This roasted shallot, spinach and parmesan salad is one of my favourites.
Parmesan and spinach are natural partners while the roast shallots make the dish unusual and delicious. The salad is best served when the shallots are still warm from the oven and then quickly finished with fresh lemon juice. I use very little oil here. I find that the warm shallots have a rich glaze which coats the spinach nicely when tossed. I feel I don't need to add any additional olive oil to the bowl but go ahead and add a little more if you feel it needs it. This recipe will serve four people as a side salad
Ingredients:
8 shallots
Extra virgin olive oil
Balsamic vinegar
Parmesan or other hard vegetarian cheese shavings – about 25-50g (1-2oz)
Large bunch of baby spinach leaves - about 150g or 5 packed cups
Juice of ½ lemon (about 2 tablespoons)
Method:
Peel the shallots and toss in a bowl with about a half tablespoon of olive oil, a splash of balsamic vinegar and some salt and pepper. Transfer to a baking tray and roast for 15-20 minutes at 200C/390F/Gas6 until browned and softened.
Combine with the rest of the ingredients, toss and serve.
Related Pages...
---
| | |
| --- | --- |
| | Joe's fab bulgur pilaf with toasted pine nuts, spinach, feta, chili and sweet sun-dried tomatoes. |
---
| | |
| --- | --- |
| | A simple, flavorsome salad with lentils, feta, lemon and basil. |
---
---