Tofu Satay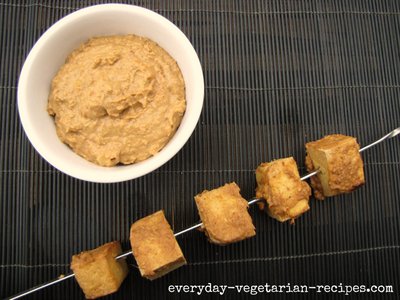 In this satay recipe, tofu is skewered and grilled or baked and served with a spicy, fresh peanut satay sauce. Of course, it's a twist on a dish that is classically made with chicken but tofu does work really well. It makes a great barbeque dish but can also be cooked in a conventional oven.
I recommend using the best quality peanut butter you can find - one that is basically peanuts and a little oil and not overloaded with sugar or salt. Failing that, you can grind up 3 tablespoons of fresh peanuts in a food processor. Basically you want your sauce to taste peanuty rather than peanut-buttery. This sauce can be made in advance and frozen.
Ingredients
1 tablespoon of groundnut oil
2 shallots
3 cloves of garlic
1 tablespoon of chopped fresh lemongrass
2 teaspoons of chopped fresh galangal or ginger
2 teaspoons of ground coriander
1 teaspoon of ground cumin
½ tsp cayenne (or more if you want it to be hot)
3 tablespoons of best quality peanut butter
1 tablespoon of soy sauce
1½ tablespoons tamarind sauce or lemon or lime juice
About 175mls/¾ cup water
1 450g/1 pound block of firm tofu
You will also need metal or wooden skewers
What To Do
I make this in a food processor to get the satay sauce nice and smooth. You could use a a pestle and mortar but the sauce will be coarser.
Put all of the ingredients except for the water and tofu in the bowl of your food processor and blend to a smooth paste. Gradually add the water with the motor running to get the consistency you want. You may need a little more or less, depending on the peanut butter you use.
If you are using wooden skewers for the satay, soak them for 15 minutes or so in water to avoid burning when you cook.
Pat the tofu dry and cut it into large chunks of about an inch. Thread the chunks onto skewers and brush with a little of the peanut sauce.
Grill or barbeque until softened and golden. Alternatively, you can cook these in the oven. I like this method because the tofu essentially bakes. You'll find that the texture is firmer this way if that is something that appeals to you. I've written more about baking tofu here.
You'll need to place the tofu skewers on a baking sheet and bake at 350F/180C for about 30 minutes. Turn the skewers half way through the cooking time, brushing with a little more satay sauce when you do.
Serve the skewers with a few spoonfuls of satay sauce poured over. Any remaining sauce can be served separately in a bowl at the table.
---