Roasted Potatoes Recipe With A Spanish Twist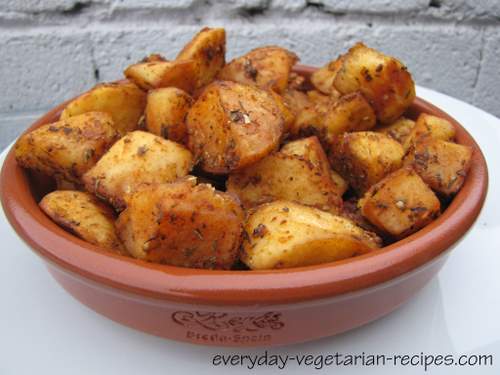 Smoky and spicy, this roasted potatoes recipe is laced with one of my favourite ingredients - smoked Spanish paprika. A few years ago, smoked paprika was finding its way into pretty much everything I cooked. At the time it was hard to find in probably most places outside of Spain and I had somehow convinced myself that six tins was a reasonable amount to bring home from a trip to Barcelona.
And while I certainly over-shopped (it's not like you need to use a lot to experience the gorgeous flavour), I can also say I never got tired of it. Incidentally the brand I bought was La Chinata
and, while it is not essential to use that brand for this dish, it is still the best smoked Spanish paprika I have tasted. If you get the chance to buy it, go for it.
I generally use hot smoked paprika for these roasted potatoes but I have made them with regular smoked paprika too and it's fine. I just like the spiciness of the hot variety.
This recipe will make enough for four people as a side dish.
Roasted Potatoes Recipe Ingredients
850g / About 2 pounds of russet potatoes
3 tablespoons of olive oil
4 garlic cloves, crushed
1 teaspoon of dried thyme
1 teaspoon of dried oregano
1 teaspoon of Spanish smoked paprika
½ teaspoon of salt
freshly ground black pepper
How To Make Them
1. Preheat the oven to 200C/400F/Gas 6.
2. Scrub and peel the potatoes and cut them into chunks about 1 inch/2.5cm. Place them in a large mixing bowl.
3. In a small bowl, combine the olive oil, garlic, thyme, oregano, paprika, salt and pepper.
4. Pour the spice and herb mix over potatoes and stir well to coat.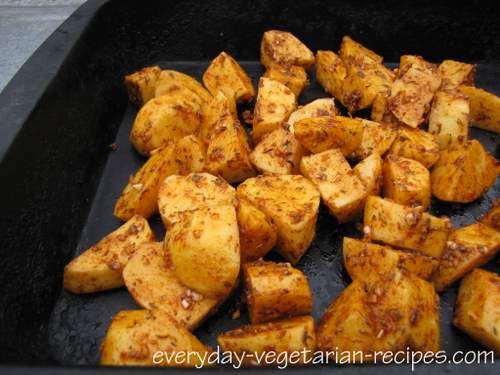 5. Toss the potatoes into a roasting pan or heavy oven tray, put in the oven and roast for 35-45 minutes until cooked and golden brown. Stir or shake the pan every 15 minutes or so while cooking
---