Brown Rice Salad Recipe With Peanut-Chilli Dressing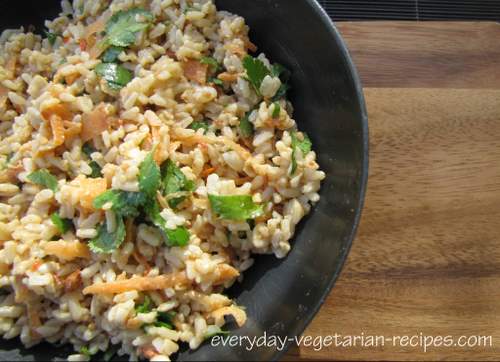 This brown rice salad recipe is another of my husband's creations and I love it. The dressing is rich, creamy and flavoursome with a hint of spiciness. Though I'm very much a chili fan, for this salad, I like to keep the chilli mild so that it gives more of a gentle warmth than heat but feel free to make this as spicy as you like by increasing the amount of chilli. This recipe is enough for a crowd - about 12 portions as a side dish.
Salad Ingredients
4 tablespoons of good quality peanut butter
1 garlic clove, crushed
Half a red chilli, deseeded and chopped
175mls/¾ cup sunflower or peanut oil
3½ tablespoons of soy sauce
2 tablespoons of rice vinegar
1 small carrot, grated
4 tablespoons of raw unsalted peanuts
450g/2 cups/1 pound of brown rice
4 tablespoons of chopped fresh coriander/cilantro or flat leaf parsley
How To Make The Salad
First make the dressing by whizzing together the peanut butter, garlic, chilli, oil, soy sauce and rice vinegar in a food processor. For this rice salad recipe, I like to make the dressing with a food processor or blender because it gives a nice thick and creamy texture but you can just whisk the ingredients together if you prefer. Just make sure you chop the chilli very finely first.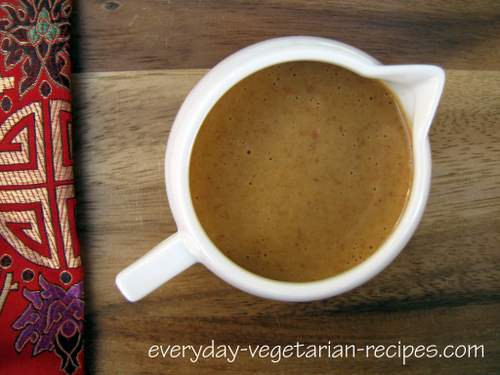 Cook the rice following the packet instructions. For the rice salad recipe, I usually just boil the rice in plenty of water rather than use an absorption method. I find it works fine. When the rice is cooked, I run it under the cold tap for a few minutes, then drain it in a sieve. Leave it draining for as long as you can while you prepare the other ingredients so it's nice and dry. If you are not used to brown rice, remember it takes longer to cook than white rice - about 30 minutes, depending on what brand you use. Just don't forget that it will always maintain a bite and will be chewier than white rice.
While the rice is cooking, dry-roast the peanuts in a frying pan, turning regularly or in an oven at about 200C/400F/Gas 6 for about 10 minutes or until browned. Leave to cool.
When the peanuts are cool, crush slightly by placing them in a polythene bag and banging a few times with a rolling pin. You just want them broken rather than smashed to a powder so that your salad has some nice crunchy texture.
Finally, in large bowl, mix together the rice, carrot, chopped fresh coriander, cilantro or parsley and peanuts. Stir really well, then add the dressing. The rice will really drink the dressing but you may not need to use all it so add it gradually, stirring and tasting as you go.
This salad recipe is especially suited to feeding a crowd for a buffet or barbeque because it can be made well in advance. The dressing will keep for a week or more and even once the salad is mixed and dressed, it stores well in the fridge for a few days if you need it to. I always use brown rice for this recipe. I find it gives a great texture and flavour to the salad as well as a delicious nutty flavour but white long grain rice will work fine too.
---