Lentil Curry
Lentil curry makes a tasty low cost, low fat supper that's rich in protein and iron. It's quick to cook and only needs some rice or bread as an accompaniment though a little raita or chutney is also good on the side.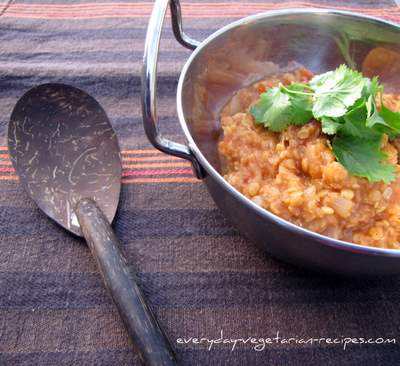 I make a lot of variants of red lentil dal but this one is a straightforward, one-pot version - that is it doesn't use the more usual method of frying the spices seperately. For this lentil curry, I usually use regular split red lentils (or dal) like the ones pictured below but you can use any split variety. In fact a mixture of split lentils adds a really great texture if you feel like experimenting.
Ingredients For The Curry
1 tablespoon of sunflower oil or other flavorless oil
1 small onion
1 teaspoon of mustard seeds
1 teaspoon chopped fresh chilli
2 cloves of garlic
8 fenugreek seeds or ¼ teaspoon of ground fenugreek
1 small chunk of root ginger, grated - about 1 teaspoon
½ teaspoon of salt
150g of split red or mixed lentils
1 tablespoon of tomato puree (tomato paste)
2 cups/450mls water
2 tomatoes
1 tablespoon lemon juice
3 tablespoons chopped fresh coriander (cilantro)
½ teaspoon garam masala
Method:
1. Heat the oil and cook the onion for 2-3 minutes until golden.
2. Add the mustard seeds, garlic, fenugreek seeds, ginger, chilli and salt. Stir for a minute or so.
3. Pour in the lentils, tomatoes, tomato puree (paste) and water. Bring to the boil, simmer until the lentils are soft - about 15-20 minutes.
4. Finally stir in the lemon juice, coriander(cilantro) and garam massala.
Serve these spicy lentils with naan bread and raita or as an accompaniment to curries.
Related Pages...
---
| | |
| --- | --- |
| | An aromatic South Indian style vegetable curry recipe with cashews, coconut, tomatoes and vegetables. |
---
| | |
| --- | --- |
| | A delicately spiced soup with split red lentils, vegetables and spices. |
---
---