A Recipe For Macaroni Salad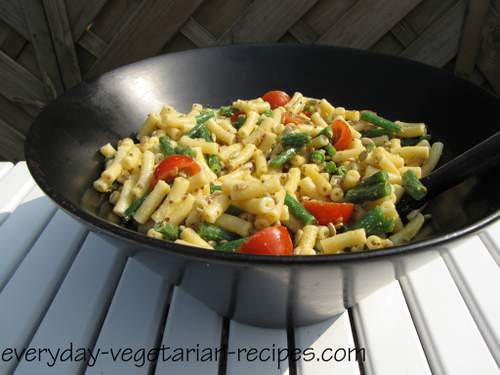 Here's a salad that I'm rather fond of. Lightly cooked macaroni, crisp green beans, juicy tomatoes and crunchy sunflower seeds are tossed in a light but snappy mustard dressing. This makes an excellent vegan pasta salad. It always goes down a storm so I thought I'd share the recipe here.
Macaroni Salad Ingredients
400g/14oz of dried macaroni pasta
175g/6oz (about 2 cups) of green beans, cut into one inch pieces
3 large tomatoes, cut into large chunks or about 10 cherry tomatoes, halved
3 tablespoons of sunflower seeds
Dressing Ingredients
125mls/4 fl oz/½ cup of extra virgin olive oil
2 tablespoons of cider vinegar
1 tablespoon each of English mustard, wholegrain mustard and dijon mustard
How To Make The Salad
Cook the pasta according to the instructions on the packet until al dente. Drain and rinse with cold water.
Boil the green beans for 3-5 minutes until tender.
Toast the sunflower seeds in a dry frying pan over a medium heat until golden. Toss them regularly to prevent them from burning. This should take about 3-5 minutes. Allow to cool.
Next, make the dressing by mixing all the ingredients together in a blender. Alternatively, whisk the ingredients together in a bowl or put them in a screw top jar and shake until mixed.
Put the cooked pasta, green beans, tomatoes and toasted sunflower seeds together in a large bowl. Pour over the dressing, mix well and serve.

Print
---