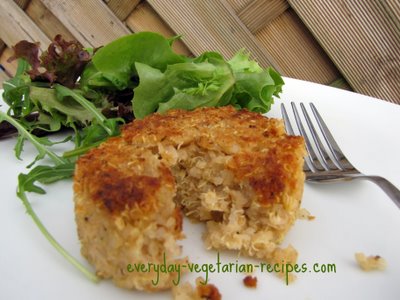 These burgers are quick and easy to make, especially if you have some leftover cooked quinoa to hand. If you do, you will need about 1½ cups of cooked quinoa. For vegans, I've happily made these without egg. The patties, while a little crumbly, were still very good.
I usually like to keep it light and skip the bun altogether but these burgers are also good served in pita bread with some peppery leaves and a little sweet chilli sauce drizzled over the top.
Ingredients
½ cup of quinoa, cooked with ½ teaspoon of salt in the water (that's the dried weight - if you are not sure how to cook it, see this guide on
how to cook quinoa
1 15oz/400g can of cannelinni beans
2 cloves of garlic, crushed
½ teaspoon of thyme
½ teaspoon of paprika
freshly ground black pepper
1 teaspoon of ground cumin
1 tablespoon of lemon juice
1 egg (optional)
Groundnut oil or sunflower oil for frying
How To Make Them...
There are two ways to make these quinoa burgers - by hand or with a food processor. Both are pretty quick. A food processor is obviously easier and the texture will be smoother but both methods work well.
To make the burgers by hand, mash the cannellini beans with a fork or potato masher. Next stir in the remaining ingredients, mixing well so that the herbs and spices are well combined.
Alternatively, you can use a food processor. Just pour everything except the quinoa into the processor and whizz until smooth. Scrape the mixture into the bowl, then add the quinoa, stirring well.
Now you are ready to shape the burgers. To do this, divide the mixture into 6 pieces. Take one piece, squeeze to compact the mixture and then roll it into a ball between your palms. Flatten it slightly to make a burger shape. Repeat with the remaining pieces. I don't use any kind of coating on these burgers. The quinoa gives them a nice crisp edge anyway but you can roll them in flour or cornmeal if you wish.
Now heat a thin layer of oil in a frying pan or skillet over a medium high heat. Make sure the oil is hot before carefully placing the burgers onto the pan. Fry for about 2 minutes on each side until crisp and golden.
---