Spicy Purple Sprouting Broccoli With Pasta
A big bag of purple sprouting broccoli from the farmers' market and an otherwise pretty bare fridge was the inspiration for this pasta con broccoli. What a pleasant surprise it turned out to be. It's a wonderfully punchy, piquant dish laced with garlic, chili and capers.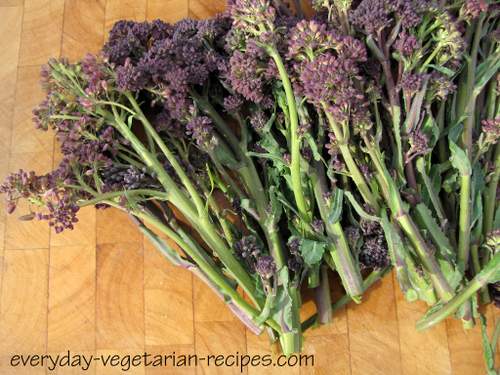 I always like to keep the fridge well stocked with a few key flavours that will lift a dish with little effort – jars of olives, sundried tomatoes, capers - that kind of thing. They keep for ages and have rescued dinner plans countless times for me. We've tossed this dish together on many a night that the cupboard was a little bare.
I use sliced red jalapeños in this recipe even if I have fresh chilis on hand because I like the acidity that the vinegar adds. If you decide to use fresh chili, I'm thinking a squeeze of lemon juice might not go astray.
Regular broccoli works fine in this recipe but young purple sprouting broccoli is extra special. This gorgeous variety of broccoli is in season in the Spring. It's tender and sweet with a delicate texture and requires very little preparation. Trim any hard stalks at the bottom but you'll find that there isn't much of that. And don't bother to remove the leaves around the stalks. They're delicious. Unfortunately, purple sprouting broccoli turns a more conventional vibrant green when cooked but don't worry. The delicate flavour and texture will ease your disappointment. This recipe makes enough for two people.
Ingredients
200g/7oz pasta (I have regular penne pictured below but I actually prefer rigatoni or penne rigate here)
150g / 1½ cups of purple sprouting broccoli
1 tablespoon of capers, rinsed well if packed in salt
2 teaspoons of sliced hot peppers, chopped (I use red jalapenos from a jar)
4 cloves of minced garlic (this is pretty potent so cut it down if you must!)
5 tablespoons of grated Parmesan or other hard vegetarian cheese
1 tablespoon of extra virgin olive oil
Pasta Con Broccoli
Cook the pasta according to the packet. Add the broccoli for the last 6 minutes of cooking, then drain. I leave the broccoli stalks whole but you can cut them in half if you prefer. It does make it a little easier to eat.
Meanwhile, heat the olive oil in a large frying pan or skillet. Add the capers, chilli and garlic and cook for 1 minute.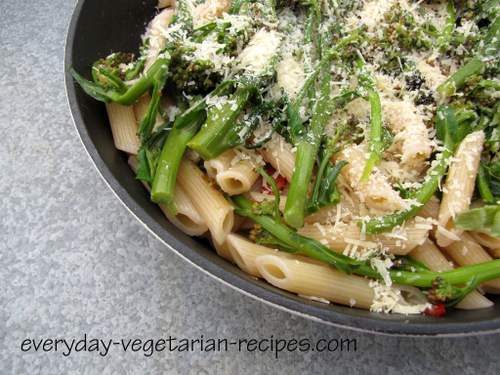 Add the contents of the pan to the pasta and broccoli and stir in the cheese.
Serve immediately. You might need a glass of wine...
Related Pages...
---

A zesty sunshiny pasta dish with orzo, broccoli, pine nuts and feta.
---

Pasta with a tomato, vodka and a touch of cream.
---
Ad
---