Tasty Potato Cake Recipe With Spinach And Parmesan
This spinach potato cake recipe works as a side dish but usually I eat it as a light main dish with a chunky salad and a little chutney. I have found it quite a useful way to serve spinach to kids too. I usually use fresh spinach and I do prefer it but frozen will work fine. Use the same weight - just defrost it beforehand.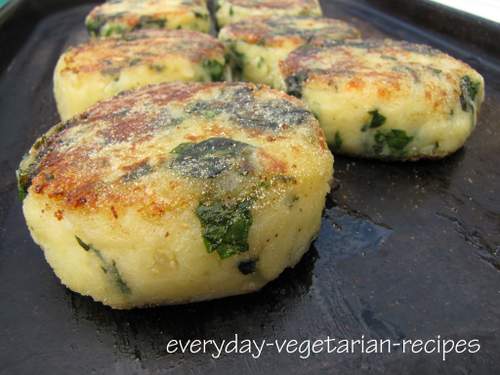 You can also substitute any cheese you like. Parmesan is good but may not be vegetarian if this is an issue for you. See this article on vegetarian cheese for more information. This recipe will make eight potato cakes.
Ingredients:
450g/1 pound of potatoes
1 tablespoon of olive oil
1 onion, finely chopped
2 cloves of garlic, crushed
200g / 7 ounces of fresh spinach or frozen spinach, defrosted
100g / 1 cup of grated Parmesan or other hard cheese
Salt and pepper
Flour to coat
Sunflower oil for frying
Method:
Steam or boil the potatoes until tender, then mash thoroughly and leave to cool.
Heat the olive oil in a pan and gently fry the onion for a few minutes until soft.
Add the garlic and stir for a minute or two. Then add the spinach to the pan and cook for 2 to 3 minutes. Leave to cool slightly, then squeeze out as much of the excess water as possible. Roughly chop.
Add the spinach to the mashed potato with the grated parmesan and plenty of seasoning. Mix well.
Shape the mixture into eight potato patties. This is easier if you rub a little bit of olive oil on your hands. This will allow you to shape the potato cakes without a sticky mess on your hands. Now coat them in a little wholewheat flour, gram flour or cornmeal.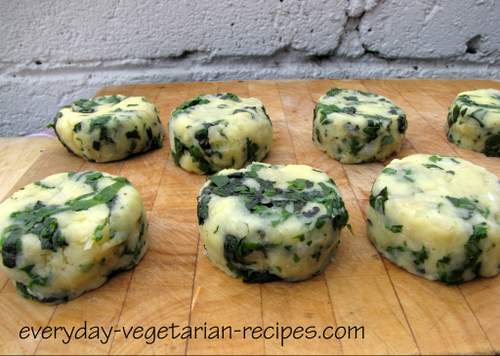 Heat a thin layer of sunflower oil on a frying pan or skillet. Fry the patties for 2-3 minutes on each side until golden.
---