Pineapple Fried Rice Recipe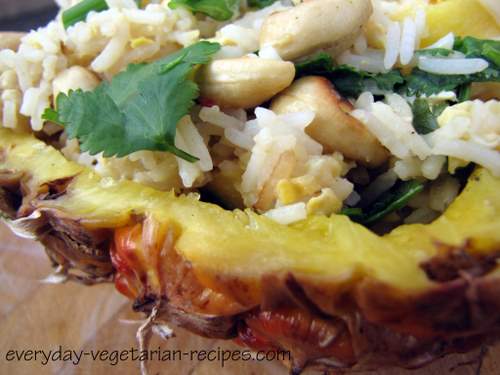 This cashew nut and pineapple fried rice recipe is a classic South East Asian dish. I have a special kind of affection for it because I first ate it for lunch in a small restaurant over-looking the beach in Borneo. Those are the kinds of memories that you hold on to, especially as it was on that trip that Joe and I decided it was time we started having babies. And that was the end of holidays in exotic locations. Ha, ha! There's always retirement!
Anyway... Back to the pineapple fried rice recipe. The rice was served in a pineapple half which had been cut lengthways and the flesh scooped out. A little cheesy maybe but irresistible too. This is a very simple dish but it makes a very pleasant lunch or light supper. It is best made with fresh pineapple and crunchy toasted cashew nuts. This pineapple fried rice recipe will serve 2 people generously as a main dish or 4-6 as a side.
Rice Dish Ingredients
1 cup/200g rice
2 tablespoons vegetable oil
1-2 cloves of garlic, finely chopped
1 teaspoon of grated ginger or finely chopped galangal
fresh chillies, 1 red and 1 green, deseeded and finely chopped
2 eggs, beaten and seasoned
3-4 spring onions, finely chopped
3 tablespoons of soy sauce
½ a fresh pineapple
4 baby corns, sliced
salt and pepper
3 tablespoons chopped fresh coriander (cilantro)
4-6 tablespoons toasted cashews
How To Make The Fried Rice
First, cook the rice as normal by boiling or steaming until just cooked. For fried rice, I boil the rice for about 10 minutes in plenty of water then tip it into a sieve or fine mesh strainer
, rinse it with lots of cold water and then leave it to drain for at least 20 minutes. If you steam your rice or use an absorption method, just refrigerate it until it is cold. I find the trick with fried rice is to use rice that is completely cold and dry. This will prevent mushy or starchy rice when frying.
In a wok or large frying pan, heat the oil over a medium heat. Stir in the garlic, ginger or galangal and chillies and cook for a couple of minutes until nicely golden.
Pour the beaten eggs into the wok and when barely set, add the rice and mix thoroughly. Continue to stir for a few minutes.
Add soy sauce, pineapple and spring onion, reserving some of the green part of the onion to use as a garnish. Squeeze any remaining juice from the pineapple skins into the wok, stir and cook for 1-2 minutes.
Remove from the heat, stir in the cashews and coriander and season to taste.
Serve in a pineapple shell or bowls with some spring onion sprinkled on top.
---