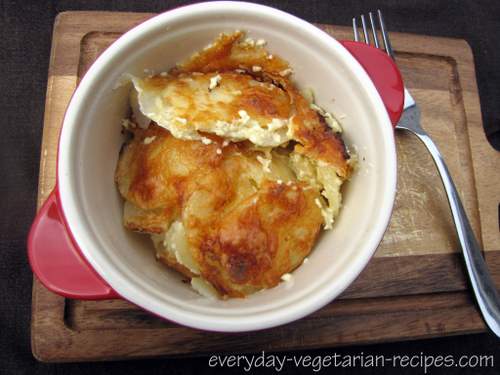 This parsnip recipe is a simple but luxurious and creamy bake or casserole with potatoes - a delicious alternative to more traditional ways to serve these slightly unfashionable vegetables. I'll admit parsnips are a vegetable I was slow to love. As a child, we usually ate them mashed with carrot and a little butter. Not a bad way to cook parsnips but it was a taste I didn't acquire easily. Parsnips are a rich, buttery and sweet root vegetable and I think it is possible that they just had too much flavour for my immature palate.
I've been cooking parsnips more recently just because I keep finding wonderful, fresh and very cheap local parsnips at the markets. They are a great source of fiber and potassium so with all that in their favour, it's hard to justify not giving them a go. Wonderful for soup, surprisingly good in salads, parsnips are good steamed, sautéed or - one of my favourites - roasted.
This particular dish can be made up the day before and baked when you need it so is a good one for special occasion dinners like Christmas. For a more casual meal, try serving it with veggie sausages or some simple fried mushrooms.
Baked Parsnip Recipe Ingredients
450g / 1 pound or about 4 medium parsnips
450g / 1 pound or about 2 large potatoes
375ml / 1½ cups of crème fraiche or sour cream
2 teaspoons of fresh chopped rosemary (I like this but it's not essential. Alternatively, you could substitute thyme)
2 teaspoons of Dijon mustard
100g / 1 cup of shredded Swiss gruyère cheese (or any good well flavoured vegetarian cheese. Parmesan would also work well I think)
Sea salt and freshly ground black pepper to taste
Preheat the oven to a moderate temperature - 350F / 180C.
Peel the parsnips and potatoes and slice them very thinly. Toss them in a pot of salted boiling water, cook for about 3 minutes and then drain.
While the vegetables are par-boiling, mix the crème fraiche or sour cream, herbs and mustard together in a large bowl with about 2/3 of the cheese. Add a grinding of sea salt and a little black pepper to taste. Stir in the parsnips and potatoes and mix well to coat.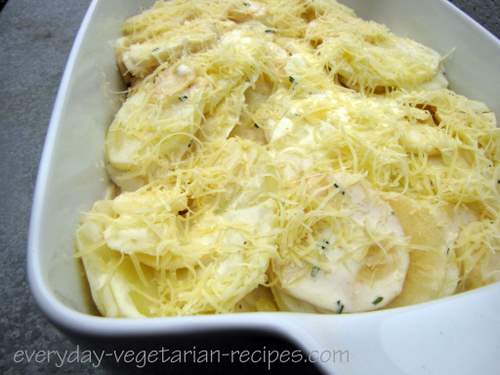 Tranfer to a casserole dish or lasagna pan. Sprinkle over the remaining cheese and bake for 45 minutes to an hour until golden on top and the parsnips and potatoes are soft when skewered through with a fork.
---