Few recipes are more personal to me than this no knead bread recipe. Apart from it's obvious advantages - it is a healthy whole grain, quick and very easy bread to make - this is a bread that I'm deeply sentimental about. Baking it today, the smell of yeast and treacle in my kitchen was incredibly nostalgic.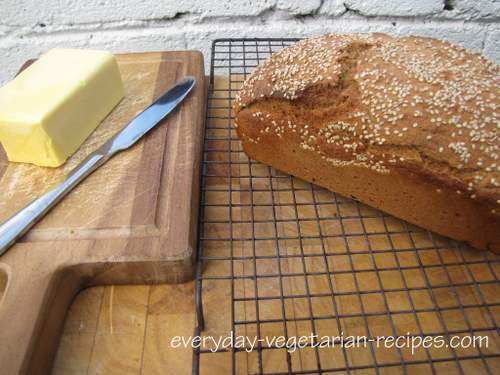 My mother made versions of this no knead bread recipe literally every other day for years of my childhood. This is the very first bread I ever made - well helped to make - in my mum's kitchen. This is the bread that was sliced thickly, spread with butter and wrapped in my school lunch box on countless winter mornings.
It's an evolved recipe. My mother started with a Ballymaloe no knead bread recipe which itself had been based on the famous wartime "Grant loaf". The version here is more or less the Ballymaloe bread but because, it was made so often in our house (we never bought bread in those days), it naturally became varied with different flours, seeds and shapes.
The thing that struck me about this no knead bread recipe when making it for the first time as an adult (which was only a matter of weeks ago I hasten to add) is just how quickly it can be made. With rising and baking, you do need to be at home for about an hour and a half but the actual preparation of the bread requires a matter of minutes.
Don't expect a springy light yeast loaf here. This bread is dense and even a little chewy with a thick crust and a rich flavour. I think of it as malty but that owes much to the black treacle, something that for me is essential because this is what makes it taste like my mum's bread. In fact, the treacle can easily be replaced with molasses or even honey. Any of these will work well but the flavour will vary depending on which you use. Have fun experimenting. This bread is so quick and satisfying to make, playing around with it is pretty effortless. The only downside is that quick breads and any no knead bread recipe almost always has a short life so this doesn't keep well. It is best eaten the day it is made though you can of course toast it the next day.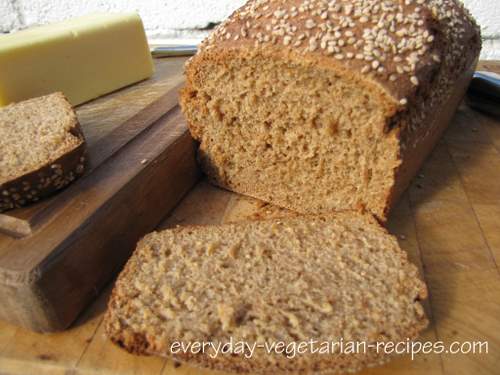 The Flour For A No Knead Bread Recipe
I wanted to talk flour because the type you use will have a big effect on this recipe. My mother's tip was to use a fine whole wheat flour. Otherwise, she told me, the bread will be very slow to rise and the texture will be too heavy. Although I didn't doubt my mother's advice, I did want to experiment to see what she meant so I also tried making this with a high quality very coarse Irish whole wheat flour. The result was an exceptionally wet dough that admittedly didn't rise well. The finished loaf had a very hard crunchy crust which I rather liked but which I imagine wouldn't be to everyone's taste. The bread itself was very dense but actually deliciously dark and nutty.
I'm thinking about playing around with mixing flours but for a lighter, better rising loaf, stick with finer flour. I discussed this with an American friend who reckons that whole wheat pastry flour is probably the closest option in the U.S. Hopefully the picture below will give you an idea here of the texture of the flour that I used.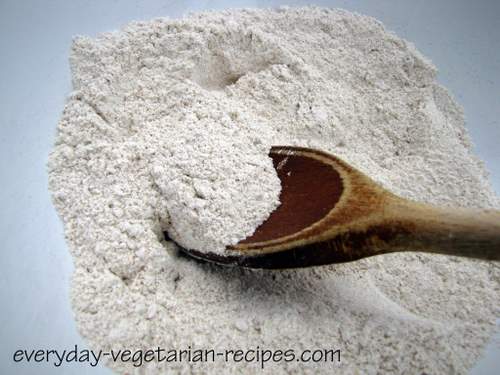 The Yeast
For nostalgia's sake, I used fresh yeast for this. Some bakeries will give it to you without charge but it can be hard to find. The smell of it activating with the treacle in the warm water is something I love. Bakers' yeast (active dry yeast) is another alternative. This is the dry yeast that needs to be activated before adding to the flour (see below) but you could also use instant yeast.
No Knead Bread Recipe Ingredients
450g / one pound or 3¾ cups of whole wheat flour (see note about flour above)
1 teaspoon of salt
1 teaspoon of black treacle or molasses
425mls / 1¾ cups of warm water
25g / 1 ounce fresh yeast or 2 teaspoons of active dry yeast
sesame seeds
You will also need a 5 x 8 inch loaf pan, well greased with a vegetable oil.
How To Make The No Knead Bread
Heat the oven to 450F / 230C. Next, mix the flour and salt together in a large bowl. In another small bowl dissolve the treacle or molasses in about 1/3 of the water and then stir in the bakers' yeast. Leave for about 5 minutes until the yeast has become frothy and creamy. Now add the liquid to the flour and salt with the remaining water and stir to combine.
The dough will be quite wet so just scrape it into the prepared loaf pan, sprinkle with sesame seeds and cover with a clean cloth. Leave it to rise until the dough almost reaches the top of the tin. How long this takes will depend on the heat of your kitchen but I find that it only takes about 15 minutes. The loaf will also expand more in the oven so don't leave it to rise too much or it will spill out of the pan while baking.
Place the pan in the oven and bake for about 20 minutes. Then lower the heat to 400F / 200C and continue to cook for a further 40 to 50 minutes until golden brown. Check that it's done by turning out onto a wire rack. The bread should sound hollow when you tap on the base.
No Knead "Bread Muffins"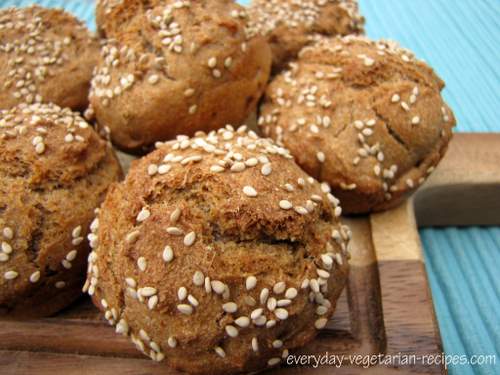 Now I did say this bread didn't keep well but I find that if I make a quick loaf in the evening, it will be perfect the next day for breakfast or lunch. Anyone who has kids understands the virtues of all things miniature when it comes to food. Smaller appetites aside, kids just seem to like things that are packaged small and I knew that if I made this bread into rolls or baps of some sort, it would have greater appeal in my 5 year old daughter's lunch box.
Because the no knead bread recipe dough is really too wet to shape, I had the idea of cooking it in a muffin pan and it really works well. Another advantage is that it cuts right down on the cooking time. And I was right about my little girl. She loves one of these for school lunch, split and buttered with a slice of cheese on the side.
To make the muffins, oil your pan well and spoon the dough in, making sure not to overfill. With this batch of dough you will get about 12 bread muffins. Bake at the higher temperature for about 10 minutes. Lower the heat as above and bake for another 10 to 15 minutes.
---