Fresh Mushroom Soup
I'm quite a fan of fresh mushroom soup these days. For me, as a child, mushroom soup generally came out of a can. I even remember liking it. Though it seems odd that that my mother didn't make it fresh because she always seemed to have homemade soup of some sort warming on the hob (she still does). Fresh mushroom soup with its rich colour and intensity of flavour seems a million miles from the pale and gloopy liquid I knew as a child. It is certainly worth the minimal effort involved in making it.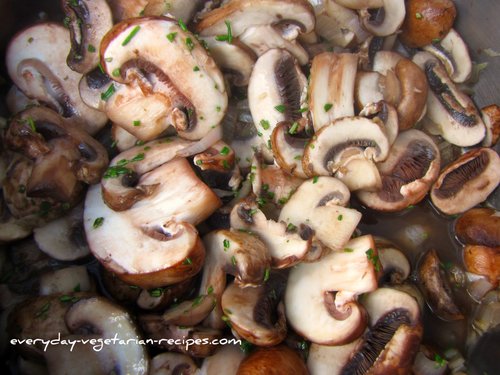 For this vegetarian soup, the quality of your mushrooms is everything. White supermarket button mushrooms are okay but you will get a better result if you go for a more flavoursome variety. Try large flat portabello, chestnut or cremini mushrooms. And by the way, this is not a low fat soup. I've used a combination of butter and olive oil. You can cut down on both if you like but the combination does give a very good flavour to the mushrooms. If you like your soup creamy, I've also listed a little cream as an option though, honestly I prefer the soup without it.
Ingredients:
1 tablespoon of butter
1 tablespoon of olive oil
1 small red onion or 2 shallots, chopped
2 garlic cloves, crushed
1½/750g pounds of mushrooms, sliced (that's about 10 cupfuls)
750mls/1¼ pints/3 cups of vegetable stock (broth)
1&frac12 cups/375mls of milk
1 tablespoon of chopped fresh rosemary or thyme
3 tablespoons of cream (this is optional)
Salt, pepper and a squeeze of lemon juice to taste
Method:
1. Gently heat the butter and olive oil in a heavy based saucepan or soup kettle. You'll need to use a large pot. This quantity of mushrooms are pretty bulky when raw.
2.Sauté the onion and garlic for about 5 minutes until soft but not brown.
3. Add the mushrooms and continue to cook over a low heat for a further 10 minutes.
4. Now add the herbs, stock and milk and simmer the soup for 15 to 20 minutes.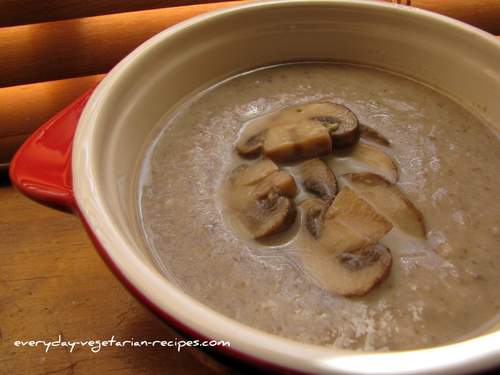 5. Stir in the cream if you are using it, then blend the soup with a food processor or blender. Season to taste with salt, pepper and lemon juice.
Serve this soup with some crusty bread or some traditional Irish soda bread.
---