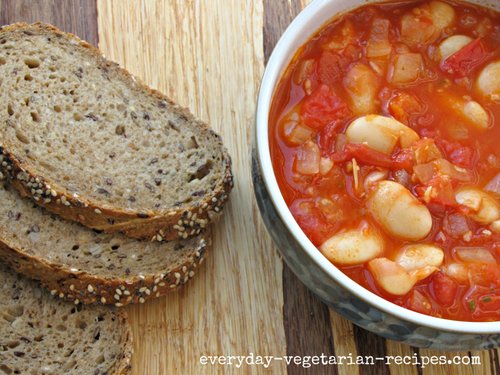 This lima bean soup recipe is a lovely, simple, dinner-in-a-bowl kind of dish with rich tomato-ey and bean-ey goodness. Made with stocks from the store-cupboard, this is perfect when the weather gets colder.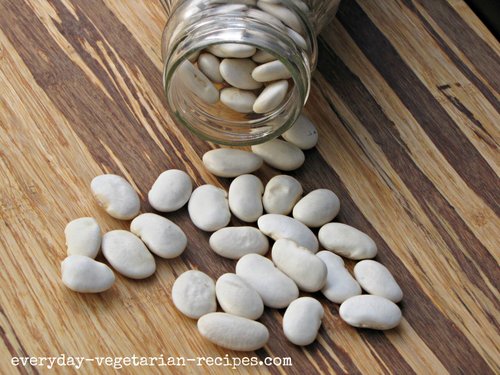 Ok, before I talk soup, I want to clear this up. Lima beans and butter beans are the same thing. For this soup, I used mature dried white lima beans or butter beans - the ones pictured here to be exact. Really this soup could be made with any kind of dried or canned white bean but I think this big, dense variety works especially well here.
Lima Bean Soup Recipe
2 cups / 340g / ¾ pound of dried lima beans / butter beans. (This equates to about 5 cups of cooked beans or a little over 3 cans - 3 drained cans will work fine.)
2 tablespoons of olive oil
1 large white onion, finely chopped
5 cloves of garlic, crushed
2 teaspoons of chopped rosemary
2 14 ounce / 400g cans of chopped tomatoes
2 teaspoons of coconut palm sugar
(Note: I love coconut sugar and definitely recommend it but you can use regular sugar if you want to. I've also had a few queries about where to buy coconut sugar. You'll get it in good whole food shops and it's also available here
.)
3 cups /750 mls of best quality vegetable stock
1 teaspoon of coarse grain salt
Sourdough or coarse grain bread to serve
---
Soak the beans overnight. Drain, cover with fresh water and boil until just cooked. This will probably take about an hour, depending on the age of your beans. (If you need more detail on soaking and cooking beans, take a look here.) Don't over-cook them. They'll get a bit more cooking in the soup.
Put the olive oil in a large heavy-based pot and set over a medium heat. Add the chopped onion and cook until soft - about 7 or 8 minutes. Add the garlic and rosemary and stir to cook for about 2 to 3 minutes.
Next add the tomatoes, coconut sugar, stock, cooked beans and salt. Simmer gently for about 30 minutes. Serve with hunks of bread. A little Parmesan or vegetarian equivalent grated over the soup or melted on the bread is great here too.
---