So here's one of those everyday simple family meals that you can throw together quickly. The basic premise is lentils and rice cooked together with some Mexican spices.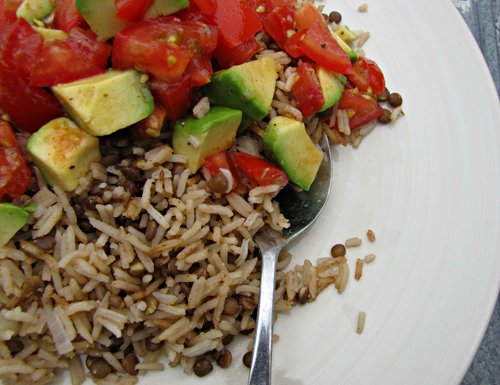 Nothing fancy but cheap, nutritious and tasty.
And you could just serve it as just as it is if the fridge is bare and you need to rely on the storecupboard. Then again, it's nice to mix together a quick salsa to serve on top if you can. It adds a zing and some freshness to the plate. Alternatively, any standard mexican accompaniments will work here, including tacos or tortilla chips.
These quantities are family sized. You should easily get 4-6 servings.
For the Rice & Lentils
170g/1 cup brown lentils
375g/2 cups of basmatic rice
1 teaspoon of ground cumin
1 teaspoon paprika
1 teaspoon dried oregano
1 teaspoon salt
1 small finely chopped white onion
2 garlic cloves, crushed
1 litre/4 cups water
For The Salsa
2 cups/300g of chopped tomatoes
2 avocadoes, diced
juice of one lime
Large crushed garlic clove
dash of chilli sauce
Tacos, tortilla chips to serve if you like
---
Place all of the lentils and rice ingredients into a large saucepan. Bring to the boil, turn the heat right down and cook undisturbed for 25 minutes. Leave to stand for about 5 minutes or so, then fluff up with a fork and serve. Mix of the salsa ingredients together in a small serving bowl. Serve the rice and lentils on plates with the salsa scooped over the top.
---