One Of My Favourite Lentil Soup Recipes: Spiced Vegetable And Lentil Soup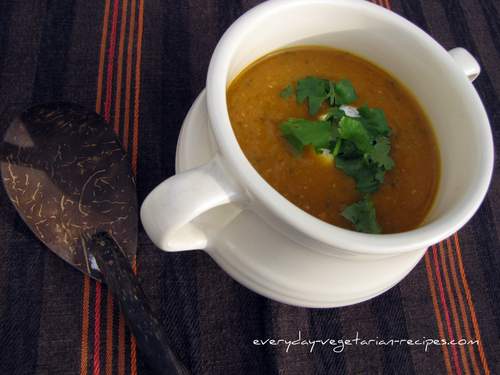 I make a loads of variations of lentil soup recipes. This particular recipe is a smooth and spicy red lentil soup which uses classic Indian spices and split red lentils which break down quickly to a smooth soup.
Lentil Soup Ingredients
1 tablespoon of vegetable oil
1 large onion, chopped
2 cloves of garlic, chopped
1 green chilli, chopped
1 teaspoon of ground cumin
1 teaspoon of ground coriander
½ teaspoon turmeric
350g/12oz carrots, (2 cups, chopped)
125g/4½ oz/2/3 cup split red lentils, rinsed and drained
1 litre/1¾ pints/4¼ cups of vegetable stock (broth)
1 400g/14oz can of chopped tomatoes
1 tablespoon lemon juice
2 tablespoons chopped fresh coriander or cilantro
Raita or plain yoghurt to serve (optional)
This soup is vegan. For more vegan recipes, have a look here.
Method
Heat the oil in a large saucepan or soup kettle and cook the onion slowly until soft. Stir in the carrot, garlic, chilli, ground coriander, cumin and turmeric. Cover and cook very slowly for about 5 minutes.
Add the lentils, chopped tomatoes and stock to the pot. Stir well, turn up the heat and simmer gently for about 20 minutes or until the lentils and carrots are soft. You'll need to stir occasionally to stop the lentils from sticking.
Remove from the heat and purée using a hand blender or food processor. Stir in the lemon juice and fresh coriander or cilantro and season. It only takes a couple of minutes to mix up some raita and a little swirled into each bowl of soup when serving makes it extra delicious (and nutritious). Or you can just use plain yoghurt.
Related Pages...
---
| | |
| --- | --- |
| | A hearty, warming soup with chunky vegetables and regular green lentils. |
---
| | |
| --- | --- |
| | A delicious and simple curry with split lentils. Great with just some chutney and flatbreads. |
---
Looking For More Lentil Recipes?
From salads to pasta, curry, soup and pies, take a look at these other recipe ideas.
---