One Of My Favourite Lentil Soup Recipes
I make a lot of lentil soup recipes and this is definitely one of the best. It's hearty, satisfying and packed with nutrients.
This soup makes a fantastic lunch if you are dieting or just generally eating healthily because it's really tasty and satisfying in spite of being low in cholesterol, calories and fat.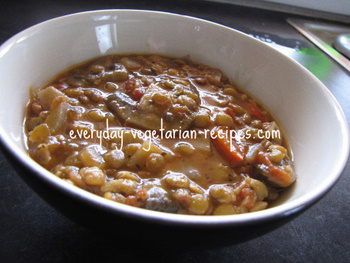 Ingredients
1 tablespoon of olive oil
1 onion, chopped
3 cloves of garlic, crushed
1 red pepper, chopped
225g/8oz/3 cups sliced mushrooms
225g/8oz/1 cup green lentils
1 400g/14oz can of tomatoes
1 litre/ 1¾ pints/4¼ cups of vegetable broth or stock
1 teaspoon of thyme
1 teaspoon of dried basil
2 bay leaves
2 tablespoons of lemon juice
Salt and pepper to taste
Method
Heat the oil in a large pot. Gently cook the onion, pepper and mushrooms for about 10 minutes until softened.
Now stir in the garlic and cook for a minute. Next add the lentils, tomatoes, stock (broth), thyme, basil and bay leaves.
Bring up to the boil and simmer for 20 to 30 minutes until the lentils are cooked. The cooking time here will vary according to the lentils you use. Some varieties take longer and you will find that lentils that have been sitting in the cupboard for a while will take longer to cook too. Up to 45 minutes.
When the lentils are cooked, stir in the lemon juice and season with salt and pepper.
And serve. This is one of those lentil soup recipes that's substantial enough to serve on its own but it's great with a nice chunk of sourdough if you're feeling a bit more decadent.
---