This lentil recipe is a simple dish with split red lentils that I make a lot. My girls call it "lentil pie" and I guess that's just what it is - a kind of pie-tart-slice sort of dish. I think the reason I never shared it before is that it seemed almost too simple. I also have other recipes which involve baking red lentils in a loaf or pie. Yet this one is the easiest, most straight-forward dish I do with red lentils and it happens to be the most popular. It's easy, satisfying and cheap to make too - the kind of thing I can rustle up with ingredients I generally already have in the store-cupboard. It makes a great family dinner and if there are any leftovers, it's perfect just sliced up and put in a lunch box for the next day.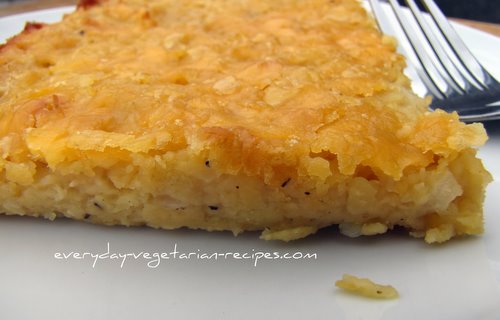 Split Red Lentils
Split red lentils, though called red, are really more orange than red in color. As with all lentils, you will need to pick through them before cooking in case of any grit or small stones. I find that this is usually not a problem and given their color, any stones will be easy to spot. They do need a very good rinse in several changes of water because they can be quite dusty. A sieve or fine mesh strainer
is essential here.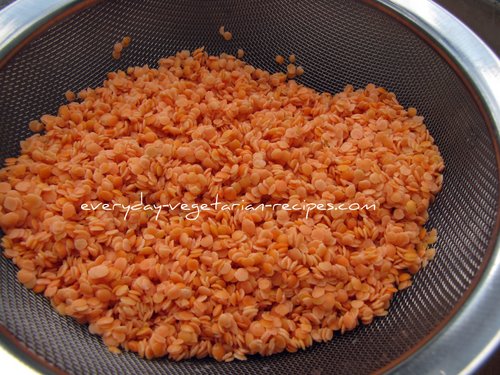 Split red lentils have had their outer husk removed and the inner seed has been split. This makes them much quicker to cook. If you have used them before, you will know that they turn a golden yellow colour when cooked and easily break down into a purée. For this reason, many people tend to use them only for soups. But they are great in savory dishes - the trick is in using the right amount of water when cooking to achieve the texture you want. In this lentil recipe, I used 1½ cups of lentils to 2 cups of liquid. This is quite a small amount of liquid which means that you will need to keep a close eye while cooking to prevent the lentils sticking or burning.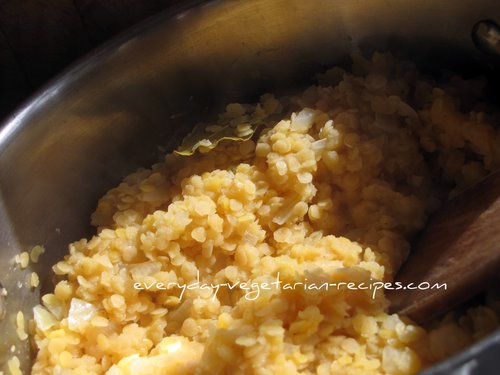 The resulting mixture will be quite thick. This is what you want so that your pie is not mushy.
Ingredients
1½ cups/280g split red lentils
2 cups/475mls of water or vegetable stock/broth
1 medium white onion, finely chopped
1 bay leaf
sea salt and freshly ground black pepper
1&frac12 cups/125g of grated or coarsely shredded cheddar cheese. I use a mature (sharp) vegetarian cheddar but substitute a similar full-flavoured vegetarian cheese if you wish.
You will also need a small baking pan. I baked mine in a 9 inch square tin similar to this one
but have also used a an 8-inch round cake pan in the past with success.
How To Make This Lentil Recipe
Preheat the oven to 400F/200C. Place the lentils, water or stock, bay leaf and onion in a large saucepan over a medium heat. Bring to the boil, then turn the heat down very, very low and cook until the lentils are just tender and all of the water has been absorbed. Check the lentils regularly and stir to prevent them from sticking. The time for this will vary but 10-15 minutes usually does it for me.
Remove from the heat, discard the bay leaf and then add 2/3 of the cheese. Stir well to combine and season with salt and pepper. Lightly grease your baking pan with a little olive oil, then spoon the mixture in, smoothing the top as you would for a cake. Sprinkle on the remaining cheese and bake for 20-30 minutes until golden and bubbling. After removing from the oven, it's best to let the pie sit in the baking pan for 10 minutes or so before you cut it.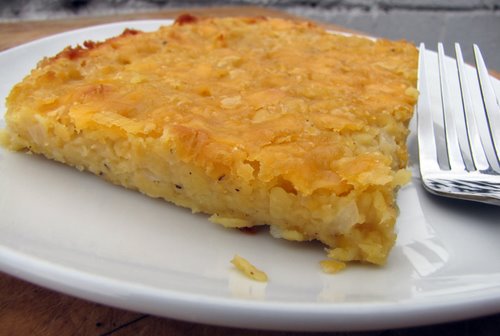 We ate this last night with roast potatoes and some simple steamed broccoli. Perfect.
---