Maybe it's a fad. Kale salad is everywhere now. But with good reason.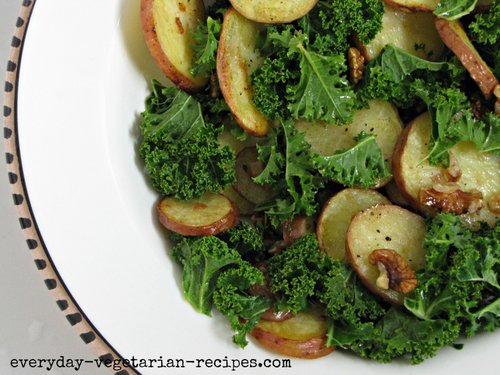 Apart from the being one of the healthiest vegetables on the planet, kale is surprisingly good to eat raw. I love this version because of the slabs of richly flavoured roasted potatoes and the crunchy walnuts. So it looks like detox food but tastes like comfort food. Clever, eh?
Make this salad well in advance of eating. I think it tastes best made at least an hour before eating but it will taste great the next day too.
Ingredients
2 medium red skinned potatoes (about 1 pound or 450g)
4 tablespoons of olive oil
½ teaspoon of fine sea salt
freshly ground black pepper
2 cups / 40g of kale, washed and patted dry
(I used curly kale but I'm sure any variety would be good)
1/3 cup / 35g of roughly chopped walnuts
2 tablespoons of red wine vinegar
1 teaspoon of fresh thyme leaves
---
Heat the oven to 200°C / 400°F.
Wash but don't peel the potatoes and cut them into slices about ¼ inch thick. Toss with 2 tablespoons of olive oil, the salt and black pepper and mix to coat. Spread the potato slices on a baking sheet and roast until lightly golden - 25-30 minutes, turning halfway through cooking. Allow to cool slightly.
Remove the thick central stalks from the kale and roughly shred the leaves or tear into small pieces and place in a large bowl. Add the potato slices, walnuts, red wine vinegar and the remaining 2 tablespoons of olive oil. Rub the thyme leaves with your fingers to release the flavours and add this to the bowl too. Toss well to combine.
Serve at room temperature but allow the salad to sit for an hour or more before you tuck in. Hardy kale takes a while to submit to the dressing but will soon absorb the richness of the red wine vinegar and thyme. This is a fab lunch salad or dinner side dish. Serves 2.
---