Irish Soda Bread Recipe With Oats
This Irish soda bread recipe is very simple but versatile. You can play around with it but - for the record - if you want it to be really Irish, keep it simple.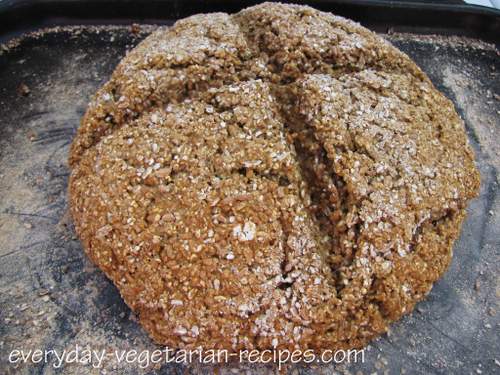 Actually it was only in the last couple of years - through various (American) blog contacts - that I even became aware of the idea of caraway seeds, fruit and white flour. Ok, you will stumble upon the occasional fruity white soda bread in Ireland but it's an oddity really.
In Ireland, soda bread is almost always made with predominantly whole wheat flour and in Ireland, the terms "soda bread" and "brown bread" are pretty synonymous. Soda bread is rarely sweet and is most commonly served in thick, buttered slices with hunks of cheese, with soft boiled eggs for breakfast or, for the carnivorous, with smoked salmon.
Variations do exist with flour ratios and this is something you may want to adjust, using all whole wheat flour or half and half white and brown flour. The more white flour you use the lighter the loaf. You can also omit the oats completely too but I love the nuttiness that they add. I often add sesame seeds or sunflower seeds. And no, they are not authentic!
Ingredients:
375g / 3 cups of whole wheat flour
200g / 2 cups of plain all purpose white flour
50g / 2/3 of a cup of rolled oats
1 heaped teaspoon of baking soda (bicarbonate of soda)
1 teaspoon of salt
450mls / 2 cups of buttermilk or sour milk
Method:
Preheat the oven to 200C/400F/Gas Mark 6.
In a large baking dish, mix together the flours, oats, baking soda and salt.
Make a well in the centre and pour in the buttermilk. Stir until mixed. The dough will be soft and slightly wet.
Turn the mixture onto a floured surface, knead gently and shape into a round.
Place the bread on a floured baking tray and score the top with a cross shape.
Bake in the oven for 45 minutes. The bread should be golden brown and when turned over should sound hollow when you tap the base.
Leave to cool for an hour if you can (I usually manage to wait about 10 minutes!) and serve spread with lots of real butter. This was a favourite breakfast bread in our house on a Saturday morning served with soft boiled eggs.
---