Indian Rice Recipe With Fragrant Spices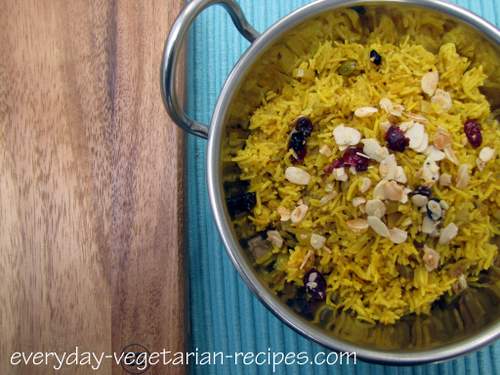 Here's the Indian rice recipe I make when I am in the mood for something a little special. Now, most of the time I like nothing better than some plain steamed basmati with Indian food but this is a little special. To me, it's good enough to eat as a meal in itself. Better still, heap it into a big bowl and serve it as part of a curry meal with friends.
Ingredients:
280g / 1½ cups of basmati rice
60g/2oz butter or vegetable ghee
1 large white onion, peeled and finely chopped
4 cloves of garlic, finely chopped
8 whole cloves
8 green cardamoms pods, split open at the top of each pod
2 cinnamon sticks
8 whole peppercorns
1 teaspoon of ground turmeric
570mls/1 pint water
1¼ teaspoon salt or to taste
½ tablespoon of butter or vegetable ghee
seedless sultanas
25g/ &frac14 cup of flaked or slivered almonds
Method
Wash the rice and soak it in cold water for 30 minutes. Drain well. This step isn't 100% necessary but I do recommend it. You will find that soaking first will make the rice really light and fluffy.
In a heavy-based pan, melt the butter over a medium heat and fry the onion for about 5 minutes, until soft but not brown.
Add the garlic, cloves, cardamoms, cinnamon sticks and peppercorns. Cook, stirring for 3-4 minutes, or until the onions are golden brown.
Add the rice and turmeric and stir for a minute or two. Turn down the heat and cook for another 2-3 minutes, stirring all the time.
Add the water and salt, bring to the boil, cover and simmer for 15 minutes without lifting the lid.
Remove the pan from the heat and leave the cover on for another 10 minutes.
Meanwhile, melt the knob of butter over a gentle heat and cook the sultanas for 1 minute or until they change colour and swell up. Transfer to a plate, then add the almonds to the pan, cooking gently until they are golden.
Fluff up the Indian rice with a fork, transfer to a serving dish and gently mix through the fried sultanas and almonds with your fork.
---