Frying is probably the most common way to cook tofu. Light and crispy, I love it served just as it is with a dipping sauce or added it to a vegetable stir fry at the last minute.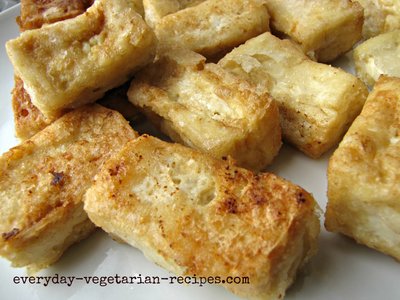 When I first started cooking tofu, I used to toss it in the pan for a couple of minutes and then quickly add vegetables. If you've done this, you've probably figured out that this is really not how to fry tofu. It ends up soft, crumbly and unappetizing.
Pre-frying and adding it at the last minute to a stir fry is the best option because tofu tends to be delicate and is likely to break up in the pan if you stir fry it with the rest of your ingredients. Frying separately allows you to get it nice and crispy.
Golden Rule #1 - Use The Right Variety
For fried tofu, it's best to use extra firm tofu.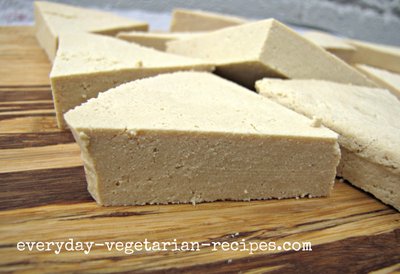 If yours is as firm as the one above, you are ready to go. If not, I recommend pressing it before frying.
Golden Rule #2 - Get it as dry as possible...
Pat the block of tofu dry with a clean cloth or paper towels, pressing down firmly but gently to remove any excess moisture. Cut the block into slices, cubes or triangles. The size and shape is up to you. The photos show you a few examples of ways to cut. If you like crispy tofu, keep it less than half an inch thick. Pat the pieces dry again.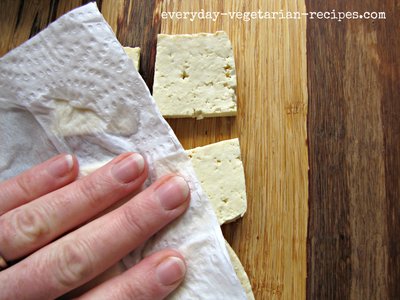 Dust With Cornstarch
If you really like your tofu really crispy, a good tip is to dust the tofu pieces with cornstarch, cornflour or fine cornmeal before frying. You only need a thin coating so shake off any excess before placing it in the oil.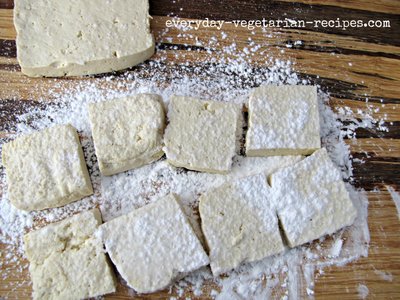 Golden Rule #3 - Use the right oil and get it hot...
It is best to use peanut oil or another flavourless oil with a relatively high smoking point like canola or soy oil. Olive oil isn't a good choice generally. Use a wok, large frying pan or skillet and cover the base with a thin layer of oil. Make sure the oil is very hot before dropping in the tofu pieces.
Golden Rule #4 - Cook in a single layer and use a metal tongs...
The tofu pieces should be placed in a single layer and you'll also need to leave enough room for turning so you may need to fry a couple of batches.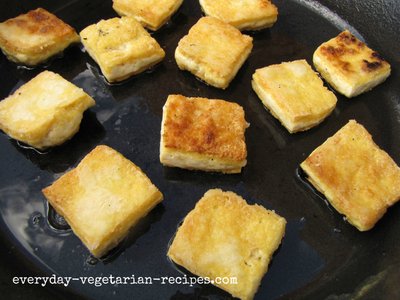 Fry for about two minutes until golden underneath before turning. Try to be patient! If you try to flip it too soon, you'll find it sticks. Turn and fry for another minute or so on the other side. Tofu can be a little fragile so take care when turning it. I highly recommend using a good quality metal tongs
for this. It's what I always use and I find it makes the task a lot easier.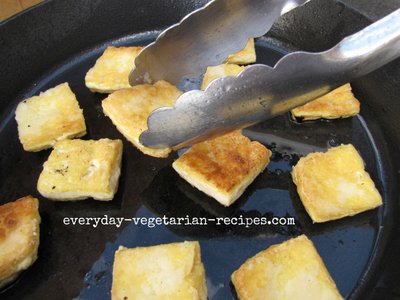 Here's what the tofu looks like when it's done. Light insight and crispy on the outside.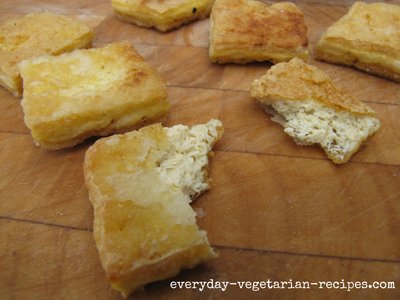 Maybe I should have added sound here for the yummy crunch! Enjoy!
---