Ever had a fajita craving? I was picking up a few groceries one Saturday morning a few weeks ago when the Mexican food started to talk to me. Well, you know what I mean. My Spanish isn't great but I really wanted that food.
"Great", I thought, "I'll make fajitas for Joe and me for a Saturday-night-kids-already-tucked-up-in-bed-kind-of-dinner." You know one of those meals that you want to taste amazing but requires no effort (cue ordering in).
Commercial Fajita Seasoning
With that in mind, I thought I'd buy a packet of fajita spice mix. I wanted to cook but had never properly made fajitas before. It seemed like a good option until I read the seasoning ingredients. I won't name brands but here's what I saw...
Salt, Monosodium Glutamate, Spices, Garlic, Onion, Calcium Stearate (Free-Flow Agent) and Tenderizer (Proteolytic Enzyme derived from Aspergillus Flavus Oryaze and from Papaya)
YUUUMMMEEEEE!
Picked up another brand. Hmmm... Ingredients...Corn Starch, Maltodextrin, Hydrolyzed Corn and Soy Protein, Sugar, Salt, Chili Pepper, Spice, Onion Powder, Garlic Powder, Citric Acid, Artificial Color, Silicon Dioxide (Anticaking Agent), Partially Hydrogenated Soybean Oil, Natural Smoke Flavor, Sulfiting Agents, Ethoxyquin (Preservatives).
I know, I know. No doubt, it somehow manages to taste good. And I also likely consume the stuff in restaurants all the time. But I just couldn't do it in my own kitchen.
Health and yukkiness aside, it's hard to justify the laziness when I could probably open a bazaar with the loot of spices in my kitchen. So I got to work on a homemade fajita seasoning. And to be fair, spooning spices into a bowl isn't really too exhausting, even for a lazy Saturday night. Here's what I came up with. I'm happy to report that it has become a regular dish around here.
My Homemade Fajita Seasoning Mix
Smoked paprika might not be too traditional but, for me, it's the most essential spice here. I use hot smoked paprika. This one
to be precise. I love the smoky spiciness. It has a nice heat too which is why I don't add cayenne to the mix below but you can if you want to.
3 teaspoons of ground cumin
1½ teaspoons of hot smoked paprika
1½ teaspoon of dried oregano
¾ teaspoon of dried thyme
¾ teaspoons of dried sage
¾ teaspoon of fine sea salt
3 tablespoons of olive oil
What To Do
Just mix all of the spices, herbs and salt together in a bowl. Add the olive oil and mix to a thick paste. Rub onto your fajita fillings before cooking.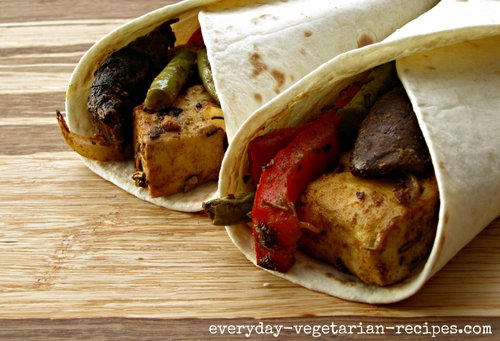 I use this spice mix to make yummy vegetarian fajitas. Get the recipe here.
---