Healthy Granola Recipe
This healthy granola recipe is sweetened with apple concentrate and maple syrup which gives the cereal a fantastic flavour.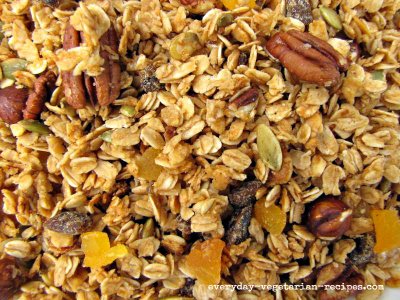 You can vary the nuts and fruit to suit your taste but this is the mix I like. The recipe will make about 16 servings.
Ingredients
½ cup/120mls of canola oil or sunflower oil
2/3 cup/160mls of maple syrup or honey
2/3 cup/160mls apple concentrate
2/3 cup/160mls water
8 cups/640g of rolled oats
2/3 cup/80g of pecan nuts
2/3 cup/80g of pumpkin seeds
2/3 cup/100g of whole hazelnuts
2/3 cup/100g of chopped dried apricots
2/3 cup/100g of chopped dried dates
How To Make It
1. Preheat the oven to 150C/300F/Gas2.

2. In a large bowl, mix together the oil, maple syrup, apple concentrate and water.

3. Add in the oats, pecans, pumpkin seeds and hazelnuts. Stir well to coat the dry ingredients.

4. Spread the mixture out on 2 large oven trays and bake for 45 minutes to an hour, stirring about every 15 minutes or so. Keep a close eye on it after 45 minutes. The granola should be golden brown but not burnt so depending on your oven, 45 minutes may be enough.

5. Transfer to a bowl, stir in the dried fruit and leave to cool.
---