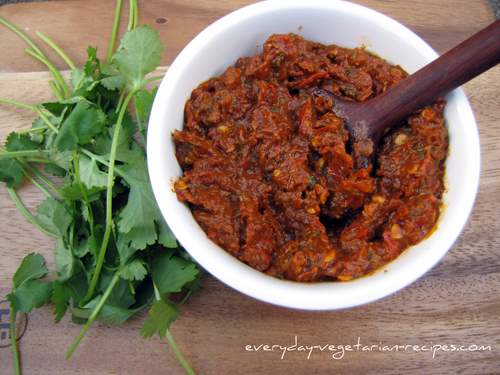 This harissa recipe is one that I hope you'll try. Intense and fiery, harissa paste is so much more than a chili sauce. It doesn't just turn up the heat on a dish, it also adds a rich depth of flavour.
Try stirring it into soups and stews or adding it to a dressing or marinade. Serve it with couscous, drizzle it over hummus or mix it with extra virgin olive oil and splash it on to vegetables before tossing on the barbecue. You get the idea. This stuff is versatile. If you mix up a batch, it will keep for several weeks in the fridge so you have plenty of time to play around with other ideas.
Now harissa fans are probably noticing that my paste looks a little chunky in the picture. Most harissa pastes that you buy are very smooth. I like a little extra bite but smooth is easily achieved with a minute or two more in the food processor.
Here I'm using a combination of fresh and dried chilli peppers. I've specified guajillo chillies because they are a relatively mild variety of dried chillis. Feel free to substitute but be warned, there is a lot of chilli in this recipe so milder varieties are recommended - even if you do like it hot.
All credit for this harissa recipe goes to Diana Henry. It comes from her book, Crazy Water Pickled Lemons: Enchanting Dishes from the Middle East, Mediterranean and North Africa
. This is a visually beautiful and exquisitely written book. Although, it is not by any means a vegetarian cookbook, I highly recommend it for the prose, the photographs and the gorgeous vegetarian recipes and the none the less inspiring non-vegetarian ones.
Harissa Recipe Ingredients
2 teaspoons of caraway seeds
2 teaspoons of coriander seeds
2 teaspoons of cumin seeds
Fresh red chili peppers, deseeded - 55g or about 10 chillies
Dried guajillo chillies - 55g or about 8 chillies
6 cloves of garlic
½ cup or about 4 tablespoons of fresh coriander or cilantro
1 to 2 tablespoons of fresh lemon juice
1/3 cup/75mls of olive oil
½ teaspoon of salt
How To Make The Harissa Paste
Soak the dried guajillo chillies in about a half cup of warm water until softened - about 20 to 30 minutes. Drain and reserve the liquid.
Place the caraway seeds, coriander seeds and cumin in a dry frying pan or skillet over a medium heat. Cook for 2-3 minutes, shaking the pan regularly. Grind the seeds in a pestle and mortar.
Put the spices in a food processor with all of the other ingredients and process until thick and fairly smooth. Add a little of the reserved chili liquid if the mixture is too thick.
Related Pages...
---
Couscous with harissa and buttery toasted almonds..
---
Spicy chickpea burgers with harissa.
---
---