Glamorgan Sausages
Crisp and golden, Glamorgan sausages are intrinsically savoury with a satisfying, surprisingly meaty texture. I have a particular fondness for them because they were one of the first dishes I made as a teenage vegetarian.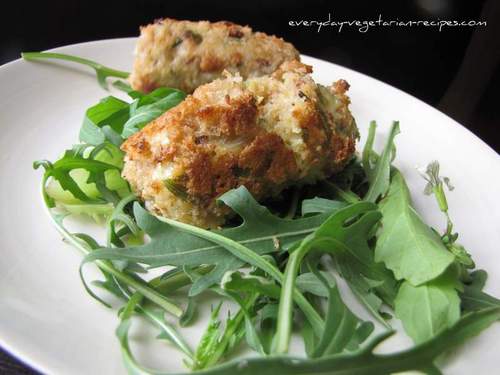 They are very easy to make but this is one of those dishes that surprises you. The somewhat simple list of ingredients are quickly transformed into really delicious sausages. Originally a poor man's substitute for meat - or so the story goes - the sausages are traditionally made with Caerphilly cheese but a mature or sharp cheddar works well.
These are good served alone side some tangy fruit-based chutney or with a zingy kind of tomato and onion salad.
Ingredients
150g/5oz grated Caerphilly or mature (sharp) Cheddar cheese
150g/5oz fresh breadcrumbs + an extra few tablespoons for coating
1 small leek or 5 spring onions, finely chopped
2 tablespoons of chopped fresh parsley
salt and pepper
1½ teaspoons of prepared English mustard
2 eggs, beaten
Sunflower oil for frying
How To Make The Sausages
In a large bowl, mix the grated cheese, breadcrumbs, leeks or onions and parsley together. Season with plenty of salt and pepper. Stir well.
Add in the mustard and beaten eggs (reserving about 2 tablespoons of the egg for coating) and mix thoroughly.
Start moulding the mixture into 8 small sausages. You can add a little milk or water if the mix is too stiff but add with caution. You will find that even though the mixture looks crumbly, it will hold together quite well when squeezed together with your hands.
Dip each sausage in the reserved egg and then toss in bread-crumbs to coat. At this stage the sausages can be chilled in the fridge ready to cook later or the next day.
When you are ready to cook, heat a thin layer of sunflower oil in a pan or skillet.
Fry the glamorgan sausages till crisp and golden, turning frequently. I often fry the sausages earlier in the day and reheat in a hot oven for 5-10 minutes when I want to serve them.
The sausages can also be cooked on the barbeque. If you want to cook them this way, chill them for about an hour before hand so they are nice and firm. Brush them with oil before cooking.
---