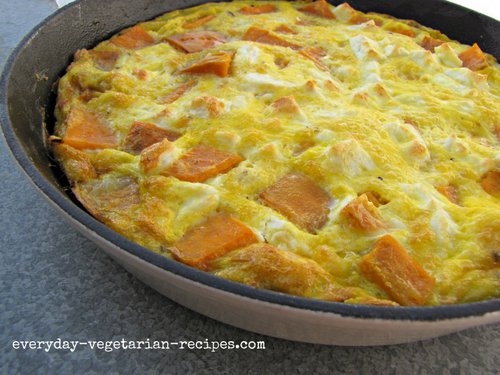 Frittatas are such handy little things. Apart from being a tasty and economical way to use up odds and ends of vegetables, I also love the fact that, depending on what you have to hand, a frittata can be breakfast, brunch, lunch, dinner or supper.
I think of this particular recipe, with sweet potato, feta cheese and red onion, as a supper dish and I love to serve it with a big salad - some peppery leaves, avocado, seeds, that kind of thing. But don't let that stop you serving it at any other time - room temperature at a picnic is another good option.
The recipe started out as a mission to finish up some sweet potatoes but I was so impressed with how good sweet potatoes tasted in a frittata that I couldn't help revisiting the basic recipe and playing around with the ingredients. This is the version I like best but if you have any combinations to share, I would love to hear about them.
---
Frittata Recipe
1 large orange-fleshed sweet potato - about 400g or 14 ounces
6 eggs
freshly ground black pepper
150g / 3/4 cup of cubed feta cheese
1 tablespoon of olive oil
1 small red onion, thinly sliced, length-ways
1 tablespoon of butter
---
Heat the oven to 400F/200C. Now you need to cook the sweet potato. You can do this anyway you like but I like to steam it. It's healthy, convenient and a good way to retain texture in the sweet potatoes. I use a
silicone steamer
as you can see below. (I like these a lot actually because they are cheap, easy to use, they don't mark your pots and are very easy to clean.) To steam the sweet potato, peel, cut into 1-inch cubes, toss into the steamer with about 1 inch of water and steam over a medium heat until just tender - about 10 minutes.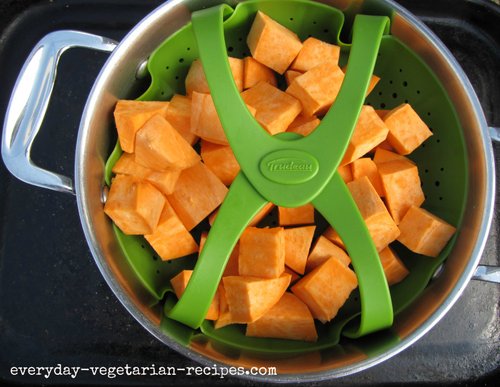 While the sweet potato is cooking, crack the eggs into a large bowl with some black pepper and whisk to combine. Gently stir in the cubes of feta.
Next, heat the olive oil in a large oven-proof frying pan or skillet over a medium to high heat. Toss in the sliced red onion and cook for about 5 minutes until starting to brown.
Add the cooked sweet potato along with the butter. Just as the butter starts to sizzle, pour in the egg and feta mixture. Cook for the 3-4 minutes until the frittata is just set underneath. You can gently slide a spatula around the edges to see how it is doing. The eggs will still be runny on top. This is fine. Transfer the pan to the oven and bake for 10-15 minutes until puffed up and set all the way through.
This frittata recipe will serve 2 people generously and with a decent salad you can easily stretch it to 4.
---