Freezing tofu is an optional step but it has its advantages. Apart from being a convenient preserving technique, freezing also dramatically changes the texture of tofu and gives it a lot more "bite", something which in its regular state, it can lack. After freezing, tofu is darker and its texture is bordering on "meaty".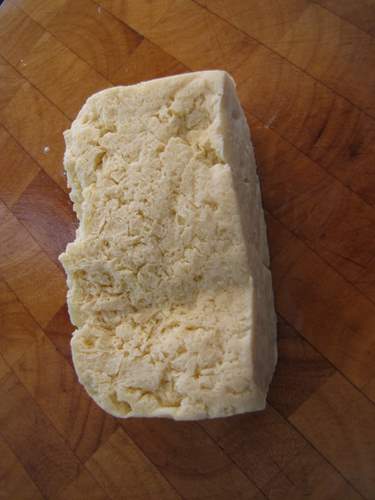 Freezing tofu gives it a spongy appearance
To freeze tofu, remove it from its original packaging and drain it well. You can freeze the block whole or cut it into pieces. I prefer to cut it into large chunks - about 2 inches or so.
This size makes it easier to use after defrosting and also creates a good dense texture. After cutting, pat the pieces dry with paper towels. Next place them on an oiled or parchment-lined baking pan and place in your freezer until just frozen.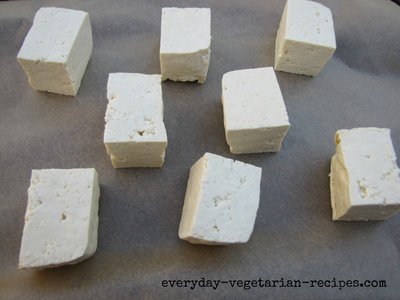 After an hour or two, your tofu pieces with look like this - firm and dark.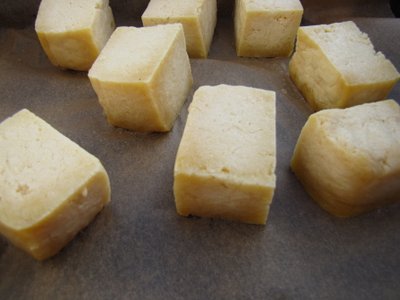 At this point, pop the chunks into a freezer bag, seal and freeze for at least 24 hours and for up to 3 months.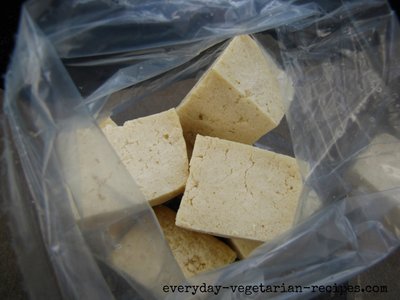 After 24 hours of freezing, you will have little frosty golden chunks of tofu.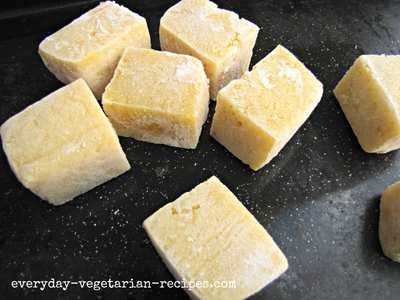 Don't worry if yours doesn't look exactly the same colour as the picture above - this can vary according to the variety or brand you use.
When you want to use the tofu, allow it to defrost at room temperature. Pat again with paper towels, gently but firmly pressing down to expel excess moisture. When defrosted, the cubes will look "spongy".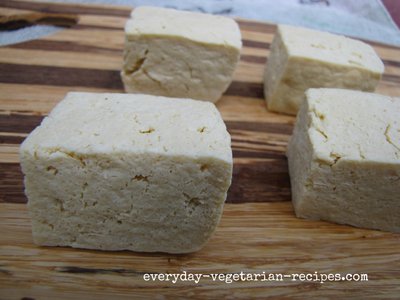 In fact, the tofu will act "spongy" too in that it will now much more readily absorb flavours from sauces. For this reason, frozen tofu is best suited to dropping into broths, soups and curries.
---