A Summer Fresh Easy Pasta Recipe
Light and fresh, with the intense flavours of a Greek salad, this is a quick, effortless kind of dish.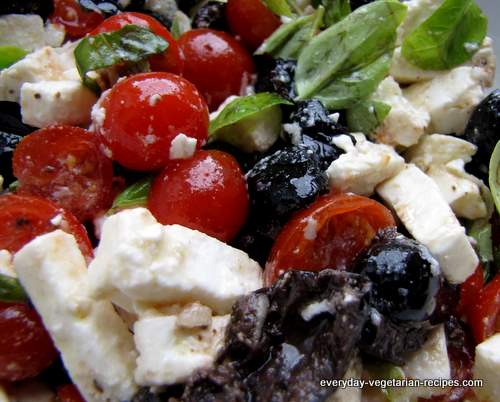 It requires no cooking - other than the pasta itself. When the weather is warm and the tomatoes and sweet and ripe, this is like Summer in a bowl.
This recipe will serve two people for dinner.
Ingredients
10-12 cherry tomatoes (about 125g or 4½oz)
50g/2oz of pitted black olives (this is about 15-20 olives or ½ cup)
100g/4oz feta
2 cloves of garlic, crushed
2 tablespoons of extra virgin olive oil
Small handful of fresh basil leaves
200g/8oz of pasta. I like to use a short but chunky pasta with plenty of bite to complement the rustic texture of the other ingredients. Try rigatoni, large fussili or conchiglie.
Black pepper to taste
Method:
1. Half the cherry tomatoes, roughly chop the olives and cut the feta into cubes and place them in a large dish.
Add the garlic, olive oil and basil and stir well. You can do this a couple of hours beforehand if you like but if you are refrigerating it, bring it to room temperature before you are ready to eat.
3. Cook the pasta according to the instructions on the packet until it is just al dente.
4. Drain the pasta and immediately add to the bowl of tomatoes, feta and olives. Stir well and serve immediately.
And there you go. A delicious pasta dish in less than 15 minutes. Enjoy.
---