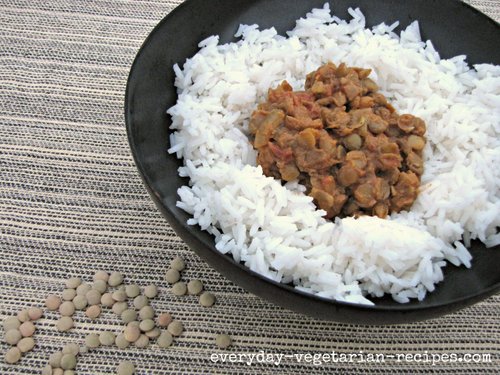 A simple go-to family dish of curried lentils over rice. This is one of those dinners I make when I'm under pressure and haven't been shopping. Not elegant - but easy, nutritious and cheap to make. So it ticks a lot of boxes for a lazy, busy girl like me.
A word on the curry powder
Use any curry powder you like and feel free to increase the quantity and add some chilli flakes. The amount of curry powder listed here actually creates a very mild, curried affect but that is what works for me with the little ones. If they were not a consideration, I would be eating out instead, um, I mean I would probably turn up the dial on the spices.
Ingredients
2 tablespoons of olive oil
1 medium white onion, finely chopped
2 cloves of garlic, crushed
1 teaspoon of grated ginger (or substitute half a teaspoon of ground ginger)
1 tablespoon of curry powder* (see note)
1 cup / 180g green lentils, rinsed and picked over
1 13.5 oz / 400ml can of coconut milk (This adds a rich creaminess. The dish is not coconut-y as such)
1 14 oz / 400g can of chopped tomatoes
1 cup of water
1 teaspoon of salt
Heat the oil in a large pot over a medium heat. Add the onion and cook for 7 or 8 minutes until soft and starting to brown. Stir in the garlic and cook for a minute or so, then stir in the ginger and curry powder. Stir for another minute, then add the lentils, coconut milk, tomatoes and water. Mix well, then bring up to the boil, lower the heat right down and simmer for about 40 minutes until the lentils are soft. Check and stir occasionally. You might find that you need to add a little water during the cooking. Add the salt and the end of cooking and adjust seasoning to your taste. Serve with rice or your favourite grain.
---