A Chinese Noodle Salad With A Zingy Spicy Asian-Style Dressing
For this Chinese noodle salad recipe, I love the texture of fat rice noodles but you can substitute any Asian-style noodle you prefer. It's a feast of a salad and we've been known to eat it just as it is on its own for dinner. It's also another good lunch box type of salad because it's substantial and keeps well. The only thing I would suggest is keeping the cashews separate until you are ready to eat or they will get a little soggy.
This recipe makes a big batch so you might want to scale down unless you are feeding a crowd. These quantities are enough for about six big servings.
The dressing is a thick, rich and vibrant Asian inspired dressing. It's good for vegans and works well with the noodles but you could also use it on rice or beans.
Ingredients for the Chinese Noodle Salad
500g / 1 pound of rice noodles
100g / 1 cup of corn kernels(sweetcorn), defrosted if frozen
50g / ½ cup of cashews
1/8 of a teaspoon of ground ginger
1/8 of a teaspoon of ground turmeric
Pinch of chilli powder
4 spring onions, thinly sliced
1 cup of fresh coriander or cilantro, chopped
Ingredients for the Tahini-Ginger Dressing
200mls/¾ cup sunflower or peanut oil
3 tablespoons of rice vinegar
3 tablespoons of tahini
3 tablespoons lemon juice
5 tablespoons of light soy sauce
2 teaspoons of ground ginger
½ teaspoon chilli powder
½ teaspoon ground turmeric
Method
Preheat the oven to a moderate temperature - 350F / 180C. Toss the cashews in the ginger, turmeric, and chilli and toast in the oven for 6-8 minutes until golden. They will be sunny yellow and crunchy when done.
Allow to cool.
Cook the noodles according to the packet instructions until just al dente.
Next make the dressing by putting all of the ingredients in a blender or food processor and whizz until smooth. You can also just whisk all of the ingredients together in a bowl, beating until smooth.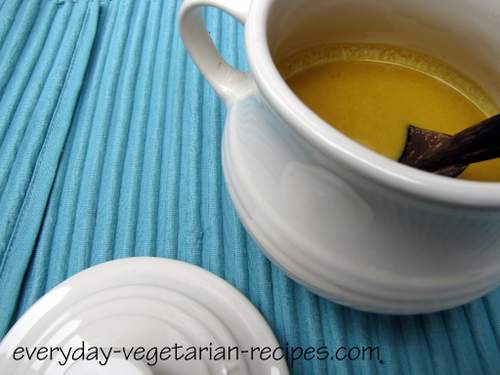 Put the noodles in a large bowl. Add the corn, cashews, spring onions and coriander or cilantro and stir well.

Pour over the dressing and mix thoroughly. It can be a little tricky to combine the ingredients in a noodle salad. I find a good tongs is best for the job. You may not need to use all of the dressing so add it gradually, mixing and tasting as you go.
Related Pages...
---
---
| | |
| --- | --- |
| | Green beans, fried tofu and a spicy Malay style peanut sauce. |
---
Ads...
---