Chickpea Salad & Addictive Asian Dressing
This chickpea salad recipe is all about the dressing. And there is nothing subtle about it. It's an intense, in-your-face Asian style soy and sesame dressing from the hand of my hubby Joe.
When you first taste the dressing, you might just be a little knocked out by its strength of flavour. Don't panic. Once you've doused the chickpeas with it, it really comes into its own. The dense earthy beans are perfect allies for the rich dressing and the result is addictive. It's a kind of umami-rich salad that is just hard to stop eating once you start.
This is a very good make-ahead salad. Even after dressing, it will keep for days in the fridge which makes it an excellent lunch box meal. It's also a particularly good dish for a party, picnic or barbecue.
I should say that the recipe here will give you more dressing than you'll need for the amount of chickpeas I've specified. But the dressing keeps well and I think is worth making a full batch. Save it for weightier salads like this one rather than light leafy ones; cold noodles, rice, all kinds of beans and bean sprouts will bask in it.
This recipe will make about four generous servings. If you double up on the chickpeas, you'll have enough for a crowd and you'll use up all the dressing.
Dressing Ingredients
3 tablespoons of tahini
1 garlic clove, crushed
1 teaspoon of grated ginger
150mls/2/3 cup/5 fl oz sunflower oil or peanut oil
2 tablespoons of sesame oil
80mls/1/3 cup/2.75 fl oz soy sauce
2 tablespoons of rice vinegar
For The Chickpea Salad
225g / 1 cup / half pound of dried chickpeas
1 small carrot, grated
1 small green bell pepper or ½ a large
2 tablespoons of chopped fresh coriander, cilantro or flat-leaf Italian parsley
2 tablespoons of toasted sesame seeds
How To Make The Chickpea Salad
Soak the chickpeas overnight in plenty of water. Drain and cook in fresh water until soft. This can take anywhere from 30 to an hour. Rinse with cold water when cooked and set aside until cool.
Make the dressing by whizzing together the tahini, garlic, ginger, sunflower and sesame oil, soy sauce and vinegar in a food processor. I like to make this dressing with a food processor or blender because it gives a nice thick and creamy texture but you can just whisk the ingredients together if you prefer. You'll get about 300mls or 1¼ cups of dressing.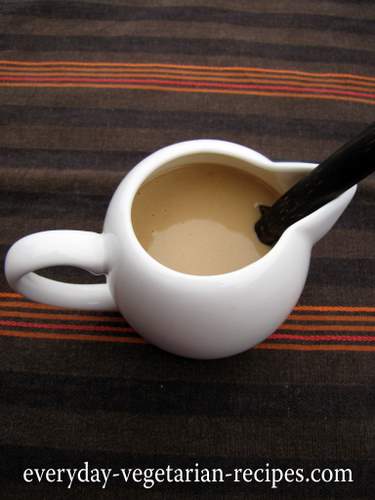 Slice the green pepper very thinly. I like to cut it in half and use a potato peeler to create lovely thin slivers.
Now in a large bowl, stir together the cooked chickpeas, grated carrot, sliced green pepper, herbs and sesame seeds. Mix well and then gradually add as much dressing as you need to give it a good coating.
---