Cheese Pie Recipe
Here's a cheese pie recipe that's easy but tastes really special. I like it for dinner but it makes good lunch fodder too. Eat it warm or at room temperature.
The cheese you use is up to you. I'm using taleggio. If you are not familiar with taleggio, it is a delicious semi soft Italian cheese that melts beautifully, making it perfect for this light cheese pie recipe.
If you can't find taleggio, fontina is a good substitute but you could use any semi soft cheese that melts well - even buffalo mozzarella would be good here. The flavour won't be the same but you will still have a delicious pie.
Ingredients:
1 packet of shortcrust pastry or prepared pie crust
1 red onion
1 red pepper
3 cloves of garlic
1 tablespoon of olive oil
1 tablespoon of marinated mushrooms - from a jar. (If you want to use fresh, use about 4 small mushrooms. Chop and cook them with the onion, pepper and garlic. See below)
50g/2oz of pitted black olives (this is about 15-20 olives or ¼ cup)
5 sundried tomatoes(about 2 tablespoons),sliced
200g/7 ounces of taleggio cheese
5 cherry tomatoes, halved
2 tablespoons of fresh oregano
Method
1. Heat the oven to 180C/350F and press the pastry into an 8 inch tin or pie dish.
2. Roughly chop the onion, pepper and garlic. Toss them in a baking tray with the olive oil, stir well and roast them for 20 minutes.

4. When the vegetables are cooked, take them out of the oven and stir in the olives, sundried tomatoes and mushrooms. Pour this mixture on top of your pie case.

5. Now roughly tear the taleggio and scatter over the pie. The picture here gives you a good impression of the white creamy semi soft texture of the taleggio.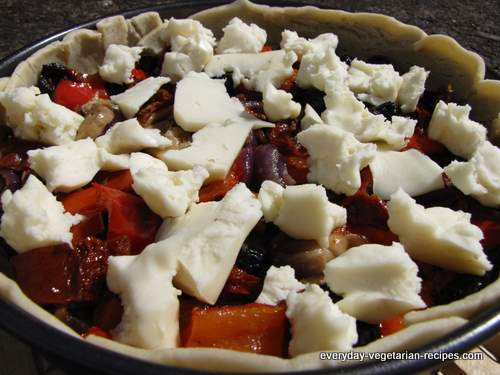 6. Top the pie with the cherry tomatoes and bake for 30 minutes until golden. Remove from the oven and scatter over the oregano.

Yum. Serve this with a green salad. This cheese pie recipe is great cold too or even heated up the next day.

---