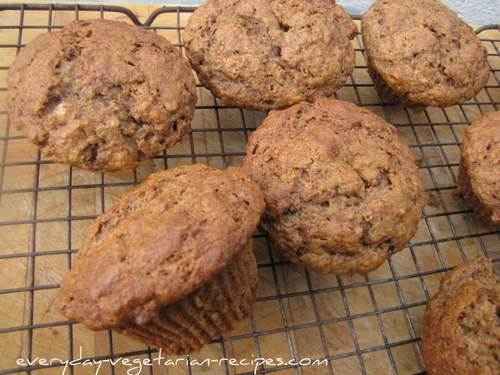 Recently craving a breakfast muffin recipe, I was leafing through Dan Lepard's Short and Sweet.
when his wonderful Weetabix muffins caught my eye. Dark and moist and a little bit malty, they were perfect for breakfast.
Dan suggests preparing the muffin pan and mixing the dry ingredients together in a bowl the night before. You can also whisk up the wet ingredients in the fridge the night before so all you have to in the morning is add the wet to the dry and stick the muffins in the oven. Don't be tempted to mix everything together in advance. Once the raising agents are activated by the liquids, they need to be baked immediately.
Of course, I didn't do any of this night before stuff. I just made everyone wait. They seemed to think it was worth it though. I even managed to delight my 5 year old daughter by allowing her to put one aside for her lunch box the next day. I wasn't sure if they would meet the school's healthy eating policy but I figured homemade with Weetabix had to count for something. She got away with it anyway.
A Few Notes On Ingredients
The full recipe is available in Dan Lepard's Short and Sweet
but I thought I'd talk here about some of the ingredients used.
From the emails I receive, I know that most of you are in the U.S. and I have discussed differences in ingredients between Europe and America with some of you. This is very much a British breakfast muffin recipe and with distinctively British ingredients, notably Weetabix and Golden Syrup.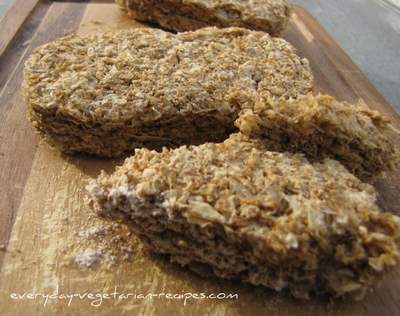 Weetabix being such an institution in the U.K, Ireland and Australia, I was a bit surprised to be told that they less common in the U.S. A high fibre, whole grain breakfast cereal which is a lot lower in sugar and salt that most, if you want to get your hands on them, I'm told they are widely available in American whole food shops, Trader Joe's or online.
Golden Syrup
is a type of inverted sugar. A thick buttery amber sweet liquid with a toasted caramel flavour, it is as much an institution as an ingredient.
Taste-wise, there's nothing quite like it but this recipe only requires a little so I think you might get away with substituting corn syrup if you needed to. Let me know if you try.
---